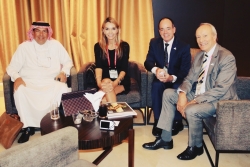 Dubai, United Arab Emirates, October 18, 2016 --(
PR.com
)-- Middle East Franchise expo is pleased to announce Trilogy Brands Group, as a Keynote Speaker at the Middle East Franchise Association Expo and Awards Ceremony, presented by His Highness Prince Bandar bin Saud bin Khaled Al Saud, Honorary Chairman of the Middle East and North Africa Franchise Association (MENAFA).
The Conference will be held in Dubai, UAE on October 25-26, 2016. Leading the conference is Dr. Khalid Al Sharfa, Chairman of MENAFA and Christopher Brinkley, Director of World Franchise Associates.
The panel of Keynote Speakers are composed of: His Excellency Abdulrahim Hassan Nagi, Secretary General of GCC Chamber of Commerce & Industry; Aliq Juma Nasib, Senior Vice President of Commercial Services Sector at the Dubai Chamber of Commerce; Mohammad Al Madani, Chairman of Al Madani Group; Sary Hamway, COO of World Franchise Associates; and Barbara D'Amato, CEO of Trilogy Brands Group.
Trilogy Brands Group will lead the discussion along the hot topic of: "New Wave of Brands" as a leader representing the US and internationally-based transactions, delivering a powerful message designed to spark new ideas and collaboration between the US and the Middle East and North Africa region. Trilogy will examine the path to success, as well as the factors revolutionizing restaurant development and expansion globally. And will share key challenges and solutions in managing global brands and growth within the foodservice industry. Led by the brightest and most innovative entrepreneurs globally, the 3rd Annual Middle East Franchise Expo is poised to be one of the most successful conferences in the region.
About MENAFA
The Middle East & North Africa Franchise Association (MENAFA) is a membership organization of franchisors, franchisees, and service providers. As the only regional industry association serving the $30 billion franchise sector growing at a rate of 27% annually in the MENA region, MENAFA is a one-stop shop for anyone considering new business opportunities in the franchise sector. We widely represent those concerned with promoting high-quality franchising both in the MENA region and around the world. Please visit www.menafa.com for more information.
About Trilogy Brands Group
Trilogy Brands Group is recognized as a pioneer in global brand development, creating a faster, better way for US brands to access highly coveted international markets, with an immediate focus on the Middle East. The world is brand-obsessed and consumers want "American" products today. Trilogy Brands Group is focused on creating significant new revenue streams by monetizing idle brand value in a region with very strong consumer demand ready to embrace new trends, youthful, growing and star-performing American brands. Please visit www.trilogybrandsgroup.com for more information.
HH Prince Bandar bin Saud bin Khaled Al Saud
Honorary Chairman, Middle East Franchise Association, and Director of King Faisal Foundation, Riyadh, Saudi Arabia, the largest philanthropic foundation in the Middle East
Dr. Khalid Al Sharfa
Chairman, Middle East Franchise Association, and CEO of Al Sharfa Holdings
Barbara D'Amato
Keynote Speaker, Middle East Franchise Association; CEO of Trilogy Brands Group
Christopher Brinkley and Martin Hancock
Director and COO
World Franchise Associates