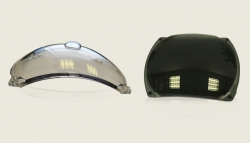 Shanghai, China, October 21, 2016 --(
PR.com
)-- WeeTect has developed
anti-fog photochromic lens
with anti-fog coating to serve the increasing high end photochromic sunglass market. The WeeTect Photochromic Lenses (WPL) feature a revolutionary technology with photochromic, anti-scratch and anti-fog ingredients. WPL possesses both optical class 1 properties and enhanced UV protection. On exposure to UV light, it tints quickly, thereby absorbing all the harmful radiations.
"WeeTect clients will have access to superior lenses, they can use in all weather conditions irrespective of whether there is high humidity or changing UV radiation," said Taylors Lei, WeeTect product manager. "As always, safety and innovative solutions have remained at the heart of WeeTect's R&D as we strive to offer the best alternatives in the market."
This new anti-fog photochromic lens for high end photochromic sunglasses markets feature a new manufacturing process called co-injection molding technique. It is better than the transitions as it allows for other additional surface treatments.
WeeTect has adopted two unique
photochromic technologies
, which include photochromic coating and photochromic co-injection molding technology. They both help to produce high quality lenses for high end photochromic sunglasses market.
The anti-scratch coating applied to these photochromic lenses harden their surface. Therefore, the lenses can withstand rough handling and do not acquire marks during any cleaning process. Basically, this reduces the possibility of blurred vision resulting from scratches.
WeeTect Photochromic Lenses (WPL) have anti-fog coating, which is a surface treatment that is added alongside anti-fingerprint, anti-scratch coating and hydrophobic coating. The hydrophobic coating is applied on the outer surface of the lens.
The photochromic technology mainly provides better protection and safety by tinting depending on the variation of light intensity or UV. The WeeTect photochromic lens is so sensitive that it tints within a short period of time.
WeeTect offer flexible photochromic lens design options that can be customized/designed to meet the specific needs of any high end photochromic sunglass market needs.
About WeeTect
WeeTect Material Limited is safety lens and visor manufacturer for OEM businesses. Since 1993, the company has invested R&D, producing a wide range of safety gears and anti-fog solutions. They include helmet visors, face shields, auto darkening helmets, plastic mirror and anti-fog solutions for foggy lenses, speedometers and IP cameras, with the recent product being the WeeTect Photochromic Lenses (WPL).