Giving Back to the Community - The Voilà Foundation Embraces Atlanta
"Giving With Style" - The Voilà Foundation announces its new, non profit 501(c)(3) status for Georgia Charitable Corporations serving the greater metropolitan Atlanta community.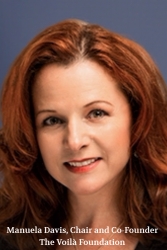 Atlanta, GA, November 01, 2016 --(
PR.com
)-- Charitable giving is a tradition in Atlanta. A new nonprofit, The Voilà Foundation, is now added to the list of charitable giving organizations there.
Dedicated to "Giving with Style," The Voilà Foundation grows out of a prominent Roswell business, Voilà Salon. Previous fundraising events held by this charitable group served notable regional causes such as Emory ALS Center and Georgia Transplant Foundation.
Foundation Corporate Chair and Co-Founder Manuela Davis relates how it all got started in her Roswell salon two decades ago.
"One of our employees had a child that only lived 13 days, and the life insurance wouldn't pay out unless the child was 14 days old. So we raised $2,500 for her at an event in our salon, so she could bury her child.
"It is such a sad story, and she didn't know we were doing it for her. She even participated, and at the end we announced that all proceeds were going to her. She was overwhelmed."
Year after year, the group selflessly raised money to support numerous causes such as American Cancer Society, Star House Foundation, American Heart Association, Lupus Foundation, Bulloch Hall, and Locks of Love.
Now, as a 501(c)(3) corporation, the Voilà Foundation plans to do even more.
On the heels of its 2016 Inaugural Roswell Mardi Gras Ball which grossed over $100,000 for local causes, the Foundation has announced its upcoming 2017 gala. An important factor in the Voilà Foundation's fundraising efforts, the 2nd Annual Roswell Mardi Gras Ball will be held February 25, 2017. This event will benefit two local causes: Skyland Trail and Roswell Woman's Club.
Skyland Trail, based in Atlanta, is a nationally recognized nonprofit mental health treatment organization serving adults ages 18 and older. It offers expert, evidence-based psychiatric care alongside a compassionate, holistic path to wellness. Monies raised by The Voilà Foundation will go towards financial aid for families in need.
Roswell Woman's Club is an all-volunteer, not-for-profit service organization with a common interest to support community educational scholarships and grants, human services, cultural arts, historic preservation, and urban improvement. Recent funds from the 2016 Inaugural Roswell Mardi Gras Ball provided 21 scholarships to local college-bound students and 11 educational grants to Roswell area teachers.
The Voilà Foundation proudly announces its founding Board of Directors: Manuela Davis, Chair and Co-Founder; Scott Law, Co-Founder; Guy Scull, President; CaroleAnn Padgett, Secretary-Treasurer; Margie Powell, Board Secretary; and Board Members Helen Caudill, Laura Jones, Susan Matherly, Michael Mock, Liz Scull, and Jere Wood.
The Foundation will embrace other philanthropic causes giving back to the community of Metro Atlanta as well. For more information about the causes it supports, or to inquire about corporate sponsorships for events, please contact the Foundation's offices at (888) 950-0059 or visit their website: TheVoilaFoundation.org.
Contact
Quality Content Plus
Ann Bailey
678-488-6516
qualitycontentplus.com
info@thevoilafoundation.org
(888) 950 - 0059

Contact