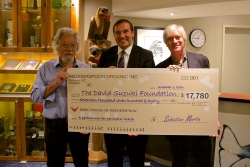 Vancouver, Canada, November 10, 2016 --(
PR.com
)-- Wedderspoon is pleased to announce a $17,000 donation to the David Suzuki Foundation, a Canadian organization at the forefront of the conservation movement in North America.
The funds will be instrumental in supporting the foundation's award-winning work to protect pollinators, such as bees and butterflies, by reducing the use of harmful pesticides and inspiring citizens across Canada to create pollinator-friendly habitat in their neighbourhoods. Further, this collaboration will serve as a platform through which both parties will more widely disseminate their message to both the public and key decision makers.
For the past decade, Wedderspoon has based its decision-making and business practices on a platform of ethical and sustainable honey production, support of pollinators and pollinator research and on having a positive impact on the environment.
"We are proud to support the David Suzuki Foundation's work in raising awareness of pollinator friendly practices and enacting real change," Rebecca Remley, Wedderspoon CEO shared.
Faisal Moola, Managing Director of The David Suzuki Foundation adds, "Wedderspoon's generous support will bolster our efforts to protect pollinators and bring nature home to yards, schools and parks across Canada."
About Wedderspoon Organic
Wedderspoon provides natural, cross category solutions to meet the health and wellness needs of today's consumer. The company is committed to sourcing the highest quality raw and Non-GMO verified Manuka and specialty honeys from New Zealand's pristine countryside. Today, our award-winning products are available around the globe in 27 countries.
About The David Suzuki Foundation
The David Suzuki Foundation collaborates with Canadians from all walks of life, including government and business, to conserve our environment and find solutions that will create a sustainable Canada through science-based research, education and policy work.
wedderspoon.ca