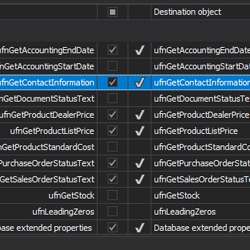 Chapel Hill, NC, August 25, 2018 --(
PR.com
)-- ApexSQL, a Microsoft Gold Certified Partner and major provider of Microsoft SQL Server solutions, announced the new product release - ApexSQL Diff 2018.
About ApexSQL Diff: ApexSQL Diff is a SQL Server and Azure SQL database comparison and synchronization tool which detects differences between database objects and resolves them without errors. It compares and synchronizes live databases, native or natively compressed database backups, database snapshots, scripts in source control and script folders and generates comprehensive reports on the detected differences.
For more information visit the ApexSQL Diff
product page
.
About this release:
Enhancements:
- Export dependencies, actions, warnings and executions results into 6 different output types:
· Text file (*.txt)
· Web page (*.html)
· PDF (*.pdf)
· CSV (Comma delimited) (*.csv)
· Excel workbook (*.xlsx)
· XML file (*.xml)
- Visual themes
- Visual Language Dictionary for Visual Studio for iconography and other imagery concepts applied.
- New UI features and functionality
- SQL Server Management Studio 17 version is added as an option to open the synchronization script in the Options window under the Output tab
- SSIS package store for SQL Server 2017 is added under the Add integration services packages window
- The dataspaces [ids] and data compression [idc] attribute values are added for the /ignore_table_attributes CLI switch
Changes:
· The application now requires Microsoft .NET framework 4.7.1
· Windows Vista and Windows Server 2008 are no longer supported
· The /sync_options CLI switch with its values is replaced with the /destination_to_source CLI switch
See also:
ApexSQL Diff 2018 release notes