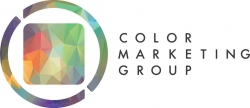 Albuquerque, NM, November 14, 2016 --(
PR.com
)-- Color Marketing Group, the leading international association of color design professionals, announced today its rebranding strategy to align with the organizations ever so colorful and innovative image.
Highlighted by a new logo, brand, fresh communication materials, the launch of the International Summit microsite and digital campaign and rally cry "You live in color. We live in color. It is color that is our principle of design. It is color that is our rally cry, our muse, our passion. It is color that makes us… us" the rebranding campaign emphasizes the organizations commitment to growth and evolution in the color and design industry.
"After more than 50 years, our new brand represents our ongoing commitment as the premier color forecasting organization in the industry," said Heather Beland, VP Marketing of Color Marketing Group. "The International Summit held each year around the country for the membership is an outstanding platform to showcase our new brand and we are thrilled with the response. We look forward to an exciting road ahead as we take CMG to the next level."
About Color Marketing Group
Color Marketing Group, founded in 1962, is a not‐for‐profit international association of color design experts who forecast color directions®. Color forecasting events are held throughout the world and the results from these events become part of the global color forecast which is revealed at the annual International Summit.