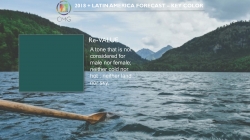 Albuquerque, NM, November 13, 2016 --(
PR.com
)-- Color Marketing Group, the leading international association of color design professionals, introduced the organizations' forecasted key colors today at the 2016 International Summit in Albuquerque, New Mexico.
Truly gender neutral and a color for the ages, Re-Value, Color Marketing Group's 2018+ Latin American Key Color, suggests a rich, deep green that creates a common ground for exploration among people and the planet that we inhabit.
Considered neither masculine, nor feminine, it is a green of strength, as well as sensitivity, one that also offers a respite from the urban landscape, while engaging the power of nature. Instead of separating the qualities, though, they are combined in a color that simultaneously speaks to its strengths.
With a new way of looking at dark green, it is fresh and vibrant. With a strong blue influence, it will become an evolutionary influencer on other colors in various values of light and dark. Turquoise, spring green and garden green will benefit from the qualities of Re-Value.
As an unbiased color, it will grace fashion runways, home, automobiles, and graphic design. It is a color of natural energy and commands attention accenting interior, as well as exterior spaces. Its depth adds power to graphics, the streamlined aesthetics of transportation, and our awareness of nature's beauty.
From the matte of a velvet settee to a glistening automotive lacquer, Re-Value brings forth a hue and depth of appeal.
It is a green with many options, and many opportunities.
About Color Marketing Group
Color Marketing Group, founded in 1962, is a not‐for‐profit international association of color design experts who forecast color directions®. Color forecasting events are held throughout the world and the results from these events become part of the global color forecast which is revealed at the annual International Summit.