Business Technology Leader, CrossRealms Inc., Bridges Gap Between Chicago and Toronto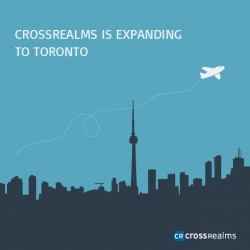 Chicago, IL, November 15, 2016 --(
PR.com
)-- On November 15th, Chicago-based technology corporation, CrossRealms Inc., a leader in high-touch, fixed fee managed IT services, will expand to Toronto, ON. Their mission is to strengthen the connection between the two cities in the realm of business technology.
"We believe the possible is best pursued by people connected on a shared mission. What gives us purpose is not the work we do, it's what we, together, are working towards," said CrossRealms President, Usama Houlila, about the company's philosophy. "As thinkers, we are always searching for opportunities to grow, to put our minds together and solve problems in a field we excel in and love. For us, that happens to be technology. And Toronto has those opportunities."
CrossRealms, which will provide services in telephony, management consulting, infrastructure, and security, in the new territory plans to bring with it the leading aspects of cutting edge innovation from their Chicago partners.
"We are very excited about this expansion. Toronto is an increasingly innovative city as it relates to technology. It is similar to Chicago in that way," said Wassef Masri, overseer of the expansion. "Our ability to thrive comes from working with forward thinking companies, and Toronto has a familiar environment in that respect. Therefore, it is a natural fit for our expansion. We also have an existing customer base here which really solidified this as the logical next step for our company."
About CrossRealms
CrossRealms partners with the industry's leading vendors to equip organizations for the 21st century workplace. With the latest in adaptive and scalable technologies, companies never have to worry about growing pains www.crossrealms.com
Click here to learn more about CrossRealms.
Contact
CrossRealms, Inc.
Laurie Vendramin
(312) 278-4445 ext. 104
www.crossrealms.com

Contact