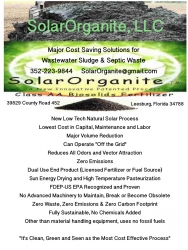 Kenansville, FL, November 15, 2016 --(
PR.com
)-- Solarorganite, LLC announced today that they are working with a major Florida landowner, Double C Bar Ranch that in the past has accepted wastewater treatment plant sludge to help fertilize their farm land. With more regulations and restrictions on land application on wastewater sludge and their concerns to help protect Florida's lakes, streams and springs, they looked into an option that will meet all State and Federal regulations. They discovered their best option was to installation a new Regional SolarOrganite® Biosolids Treatment Facility. Double C Bar Ranch will be offering major discounts to Cities, Counties and Sludge Hauling Companies that brings in their sludge to their new Regional SolarOrganite® Biosolids Treatment Facility for treatment.
This newly developed solar process will help them manage their capital cost, energy use, ecological conservation, carbon footprint and help with sludge disposal needs of local Municipalities and sludge haulers through a solution that is safe, environmentally friendly and that will positively provide major cost savings and a state licensed fertilizer to use or sell.
The SolarOrganite® Biosolids Treatment Facility will save money and reduce their carbon footprint while saving on transportation, energy costs and other disposal costs. Using the new environmental friendly technology, the treated end product from the Wastewater Sludge is a Class AA/EQ (Exceptional Quality) slow release biosolids fertilizer, meaning it can be reused without risk to peoples health or the environment. This New propriety process will help protect all Lakes, Streams, Springs, Rivers, and Enhance Soil and will drastically reduce the Wastewater Treatment Plant's Sludge Disposal Costs.
Only natural sunlight is used with this new process to create energy to dry the wastewater sludge and through this SolarOrganite® process all biosolids are totally dried and pasteurized with the increase in processing temperatures that destroy all pathogens and removes all vector attraction, meeting all State and Federal Regulations. Particulates from the end process are converted to a safe Florida Department of Agriculture and Consumer Services licensed slow release fertilizer and it can be used safely in agriculture, lawns, landscape, farming or anywhere.
The SolarOrganite® Biosolids Treatment Process is a low tech newly developed natural solar process, lowest cost in capital, maintenance and labor, major volume reduction, can operate "off the grid," reduces all odors and vector attraction, zero emissions, Dual Use End Product (Licensed Fertilizer or Fuel Source), using only sun energy for drying and High Temperature Pasteurization Treatment, no chemicals, FDEP and US EPA recognized and proven, and no advanced machinery to maintain, break or become obsolete. "It's Clean, Green and Seen as the Most Cost Effective Process"
If you would like to have a reduction in your sludge disposal costs, contact Solarorganite, LLC at
solarorganite@gmail.com
. (352)358-1222.