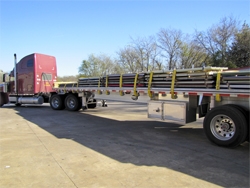 Tulsa, OK, November 19, 2016 --(
PR.com
)-- A flatbed truck loaded with metal panels and fasteners heads out the door destined for Haiti, to assist in emergency repairs of homes destroyed by Hurricane Matthew. Metal Panels Inc. not only donated the truckload of needed supplies, but invited local contractors and suppliers to join the effort, donating any surplus panels and screws they might have to help in the rebuilding of Haitian homes. Kloeckner Metals, United Steel Supply, Triangle Fastener Company and other suppliers generously contributed to the effort.
Metal Panels Inc., a manufacturer of metal panels, trims and accessories for metal roofing, post-frame and metal buildings discovered that they could play a vital part helping to restore the devastation in Haiti. The first truck of metal building supplies is on its way, and a second truck will be sent out from MPI in the next few days.
Giving back to the community
has always been a commitment at Metal Panels Inc., but President Mitchell Hentkowski believed this cause was worth extending beyond the community. Working in cooperation with Cross Catholic International, Mr. Hentkowski spearheaded the effort to supply containers of building materials to needy communities destroyed by the recent hurricane. "We have been blessed in our business," according to Mr. Hentkowski, "and this program offered an ideal way to give back to those in need."
Metal Panels Inc. opened its doors in 2001, and has built a reputation as a reliable, quality metal panel manufacturer, now serving a seven-state region. The Tulsa plant features over 34,000 square feet of state-of-the-art manufacturing space, complete with drive-through loading. The Kansas City plant features over 33,000 square feet of manufacturing and inventory space. MPI not only makes its own full line of UL-approved StrongSeam panels, but is a licensed Berridge dealer and manufacturer. MPI offers 15 panel profiles, including curved panels, and a wide line of accessories. Metal Panels Inc. is a single source provider, offering the builder everything needed for a metal building from the slab up.
Metal Panels Inc. maintains two manufacturing centers. In Tulsa, MPI is located at 131 S. 147th E. Ave., Tulsa, OK 74116. In Kansas, 8341 Ruby Ave., Kansas City, KS 66111. MPI serves Northern Texas, Oklahoma, Kansas, Missouri, Arkansas, Southern Nebraska and Iowa. For more information on MPI and its products, see their website at
http://www.metalpanelsinc.com
.