Poets' Choice Publishing and the William Meredith Foundation Announce the Publication of Master Poet Martin Galvin's New and Selected Poems, A WAY to HOME
A WAY to HOME brings together selections from previous volumes as well as a large group of major new poems by an award-winning poet of great stature. Ryan Bongers contributes his art to enhance and celebrate the poet's work.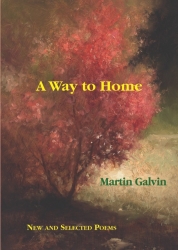 Washington, DC, November 28, 2016 --(
PR.com
)-- Martin Galvin's reputation as a teacher in the DC area is legendary and despite the many years devoted to his students, Dr. Galvin has continued to publish his extraordinary poetry over the decades. A WAY to HOME brings together selections from previous volumes as well as a large group of major new poems. Having spent his working life teaching at the college and high school level as well as at the well known Writer's Center in Bethesda, MD, he managed to produce 5 books of poetry and hundreds of collected and uncollected poems over the years.
A former student, now living in Germany has added paintings to enhance the beauty of this volume and celebrate his mentor. This project is an ideal example of the work done by the William Meredith Foundation to continue the legacy of the former US Poet Laureate through publications and educational programs in the arts.
Ryan Bongers beautiful paintings offer a remarkable foil to the poems. As he says in the artist statement, "The act of using a brush loaded with wet material to bring an imagined thing to life remains elusive, if not downright shifty. And the performance can be both meditative and manic, demanding guts – like all creative endeavors – and a great deal of honest reflection and introspection, plus a cool capacity to eliminate non essentials."
Poet Mary Morris, writing in Montserrat Review has said of Galvin's work, "It is a comfort and a blessing (as the Irish might say) to hear a voice from the rich landscape of a country with such strong and ancient tradition of poetry, this Celtic land of Atlantic Europe." And Pulitzer-Prize-winning poet, Henry Taylor describes Galvin's work as that "of a poet who values what can be learned from other lives than his, and what can be made of imagining characters and settings. Mr Galvin gives them believable things to do; he speaks with admirable directness, rewardingly juxtaposes the exotic and the mundane. His poetry reminds us… of how we stay human, even in the presence, or the grip, of various uniquenesses."
This is a collection of poems and art not to be missed and is brought to serious lovers of poetry with great pride by Poets-Choice.com and WilliamMeredithFoundation.org.
Contact
Poets Choice Publishing
Richard Harteis
860-961-5138
www.poets-choice.com
www.WilliamMeredithFoundation.org
poets-choice.com

Contact