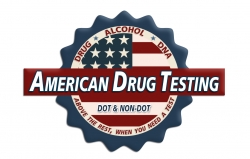 Winter Park, FL, November 29, 2016 --(
PR.com
)-- American Drug Testing, Inc. America's number one choice for Drug, Alcohol and DNA testing is pleased to announce that it now offers electronic Chain of Custody Forms (eCCF) for US Department of Transportation Regulated Drug Testing.
The Office Of Drug and Alcohol Policy and Compliance (ODAPC) issued a final rule on April 13, 2015 that grants employers, collectors, laboratories, and Medical Review Officers to use the electronic version of the Federal Drug Testing Custody and Control Form (eCCF) in the DOT-regulated drug testing program.
https://www.americandrugtesting.com/dot-drug-testing-company/
An eCCF is an electronic version of the traditional, five-part, Federal Paper Custody and Control Form (CCF) which is the document used for ordering a drug test, specimen collection processing, and documentation for the donor's specimen for workplace drug testing.
The CCF documents the external specimen chain of custody such as the handling of the specimen from the time of collection until it is received at the laboratory and, in the Federal Program, it is also used to document final laboratory results reported to the Medical Review Officer (MRO). The Federal eCCF collects and transmits the same employer, donor, collector, MRO, and specimen information as the paper process but utilizes an electronic, online process rather than the five-part paper form.
Any "Safety Sensitive" rated employee or employer regulated by any mode of the DOT can begin using the eCCF only when utilizing a laboratory that has been approved through the Department of Health and Human Services (HHS) National Laboratory Certification Program.
https://www.americandrugtesting.com/dot-consortium-program/
eCCF Benefits
· Less data entry and legibility issues
· Reduced collection site flaws
· Efficient delivery of eCCF copies to employers and MROs
· Accurate data from the eCCF seamlessly replaces outdated account and MRO demographics
· Less paperwork to manage
· Improved overall efficiency
American Drug Testing provides DOT and Non-DOT drug and alcohol testing at testing centers in all cities nationwide. Testing methods include urine, hair, saliva and blood and testing services are available for individuals and employers needing a test. For more information on the services offered by American Drug Testing or the eCCF rule change call, 855-919-3784 or
www.AmericanDrugTesting.com