Pacific Islander Royalty and Dignitaries Praise Disney's Moana
Prince Tungi and Prince Ethan who are of Tongan and Samoan royalty shares their thoughts on Disney's Moana after attending the world premiere in Hollywood.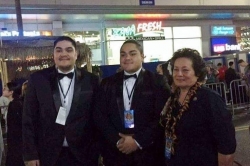 Hollywood, CA, December 01, 2016 --(
PR.com
)-- Prince Tungi who is of both Tongan and Samoan Royalty said, "I am pleased that Disney's Moana has opened and shared to the world the untold stories of the Pacific with its rich Polynesian culture of seafaring Pacific Islanders with this tale and tells it quite well! With its star-studded cast to its sensational music, it most certainly will bring a lot of warmth, smiles and laughter to this sheer visual spectacle that is Moana."
Moana opened Thanksgiving weekend and took first place at the box office, beating out other big films including Fantastic Beasts and the newly released Brad Pitt film, Allied. Moana is already on a pace to match Frozen, which broke box office records for an animated film; in fact Moana is being called "the tropical Frozen." But unlike Frozen, Moana tells a story that is true to the people it portrays.
Hon. Aumua Amata Coleman Radewagen, the Congressional Representative from American Samoa, said, "I am happy to see Polynesians portrayed in such a positive light and hope the movie is so successful that Disney will want to do a sequel and that there will be additional opportunities for Polynesians to be involved. I also hope the movie will lead audiences to want to learn more about our beautiful islands and cultures."
Adding to the realism, the two lead voice actors are both of Polynesian descent. Newcomer Auli'i Cravalho, the teenager who voices Moana, is a native Hawai'ian and the voice of "Maui," the demi-god who joins Moana on her perilous journey, is performed by Dwayne Johnson whose mother is Samoan.
Prince Tungi's mother, Hon. Alaileulamoeileula Poutasu Ma'atu added, "On Samoa and Tonga, and many other islands, women have always played roles of leadership - in our society and our folklore - so it is wonderful to see a female lead that honors that as well as our explorers who crossed wide stretches of ocean. Our peoples were not just waiting to be 'discovered' by the Europeans, and although no movie cannot say all there is to learn about Polynesian culture, this a good start and we hope the success of this fun, entertaining movie will give the rest of the world a glimpse of our world."
Prince Tungi and his brother Prince Ethan, attended the world premiere of Disney's animated movie Moana on November 14th at the El Capitan Theater in Hollywood with their cousin, Hon. Frederica T. Filipe. Prince Tungi and Prince Ethan's maternal grandmother is Susuga To'oa Tosi Malietoa, daughter of the late Samoan King Malietoa Tanumafili II of the independent state of Samoa. Their paternal grandfather is His Majesty Taufa'ahau Tupou IV, the late King of Tonga. Both Prince Tungi and Prince Ethan currently reside in Los Angeles.
Photos attached. Interviews with Prince Tungi, Prince Ethan, and Congresswoman Radewagen may be arranged by contacting Alisi Mataele at 310.597.2611 or zen90210@gmail.com.
Contact
A Mana Group
Alisi Mataele
323-207-6853

Contact