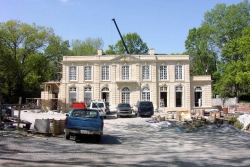 Long Beach, CA, December 06, 2016 --(
PR.com
)-- All Exterior Stonework and inside Marble was produced by OSW.
One Stone World Inc. with its President Tor-Leif Walker, supplied the cut to size French limestone to the Exquisite Nashville residence of US Collectors Marlene & Spencer Hays.
One Stone World Inc. operates all over the United States and throughout the World.
Marlene and Spencer Hays donated major Post Impressionist Collection to Musee d'Orsay in Paris, France: over 600 Master pieces including works by Pierre Bonnard, Edouard Vuillard, Lodilon Redon, Henri Matisse, Edgard Degas, Amadeo Modigliani…
Their Francophilia showed in the home that they built in Nashville, an exact replica of the Hotel of Noirmoutier Palace, currently home of the Paris Prefet built in the city in 1724.
Marlene and Spencer Hays wanted to use the limestone from Paris in a building to last for ever in Nashville, Tennessee.
The Hays Residence is a unique project; Marlene and Spencer Hays wanted to build a French Palace based on 18th Century ideals of Beauty and French Architecture.
One Stone World Inc. became a key Stakeholder in this outstanding project.
All exterior stonework as well as the exteriors were produced by One Stone World Inc.: walls, flooring, columns, balusters, cornices, staircases…
A total of over 100 containers was shipped to the job site to Nashville.
The driving force of One Stone World, Inc.: a team trained to perform every stage in the stone-cutting process. Privately owned, OSW projects, refines, draws, models, lays out, carves and makes any construction in stone possible.
OSW designs and makes both traditional and contemporary work using all types of stone. The level of craftsmanship allows its team to meet the most complex technical projects.
One Stone World Inc. with Tor-Leif Walker supplied for 30 years cut-to-size limestone, marble granite and ceramic, porcelain tiles for the major mall owners, hotels, privates residences.
Their clients include Starwood, GGP, Rouse, Simon, Westfield, Taubman, Macerich, etc.
www.one-stone-world.com