MetGlobal Established "MetGlobal Academy"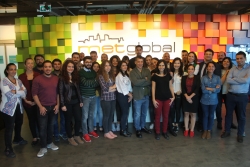 Istanbul, Turkey, December 06, 2016 --(
PR.com
)-- The world's leading travel and accommodation supplier MetGlobal Group of Companies, established its travel industry-focused "MetGlobal Academy." Aiming to introduce company culture, business essentials and systems to new employees, this new learning and development program offers important opportunities especially for young talents.
MetGlobal Academy allows young graduate newcomers to gain crucial information about the travel industry and easily be adapted to the company. New MetGlobal employees from different regions all over the world gather together within the program. Being the first module of MetGlobal Academy, the induction program offers important sessions including company overview, world of e-travel, business unit information, IT systems, technology ecosystem, information & data security, B2B & B2C business overview, business intelligence and technology products. After the induction program, the participants of MetGlobal Academy continue with professional and technical modules which differs by department needs. Being introduced to all new employees within Metglobal Group of Companies, this program is also supported by e-learning system.
"We strongly believe that the future will be brighter with the next generation. Therefore we wanted to design a special development program mainly for young talents. Our aim is to give these brilliant, ambitious, young talents an opportunity for gaining crucial information about travel industry and easily being adapted to the company. We are looking forward to see the difference that this valuable experience will create," said Nevgul Bilsel Safkan, the Managing Director of MetGlobal B2B Brand.
About MetGlobal:
Metglobal is a world leading technology powerhouse that aims to provide individuals and businesses with simplified experiences that improve productivity through multiple online effectiveness tools. Metglobal houses a variety of brands in their portfolio established in online travel and travel related technologies and products allowing its partners to operate in over 205 countries and territories across the globe with an inventory of over 342.000 hotels and 15.000 destinations. The brand that MetGlobal houses are HotelsPro (global B2B wholesaler), Otel.com (global B2C discounted hotel bookings provider), Tatil.com (the first online tour operator of Turkey), Gezi.com (global travel comparison website) and PayTrek (global payment provider).
Contact
Metglobal
Kubra Serter
+90-212-315-1400
www.metglobal.com

Contact