The Grimes Companies' Michael Runager is the New Director of Business Development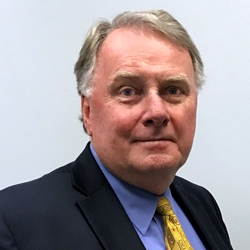 Atlanta, GA, December 08, 2016 --(
PR.com
)--
The Grimes Companies
is pleased to introduce Michael Runager as the new Director of Business Development in Atlanta, Georgia. Runager brings over 30 years of experience in the logistics and transportation industry and is an exciting addition to the Southeastern logistics company.
An Important New Player to Increase Business Opportunities in Atlanta, GA
There are few sales professionals in the Atlanta area with the extensive knowledge in supply chain services of Michael Runager. Having worked with some of the biggest names in the Atlanta logistics market, Runager has been involved with and managed many aspects of supply chain solutions, including strategic planning, sales, marketing, business development, customer service and operations. As a long-time resident of Atlanta, Runager also offers a valuable insider's perspective on potential business opportunities in the local metropolitan area.
Supporting & Developing the Growing Atlanta Market
With a trucking terminal in Atlanta and a steadily growing fleet of owner operators based in the area, focusing on developing more and more new business opportunities in the Atlanta market is crucial for the Southeastern 3PL already recognized as one of the fastest growing companies in Northeast Florida.
"We're excited for Michael to come in and hit the ground running as we continue to grow our Atlanta market," said Ike Sherlock, the Executive Vice President of The Grimes Companies and new leader of the sales and marketing divisions. "With his extensive experience in sales and logistics, we're confident Mike will be valuable resource in developing new business opportunities in 2017."
Runager is equally enthusiastic about joining the business development division of the Grimes Companies. "They have a passion for the customer and for bringing excellence to all aspects of their business," said Runager. "I am looking forward to being a part of this dynamic and growing team."
Contact
The Grimes Companies
Michelle Williams
904-446-4800
www.grimescompanies.com

Contact