Philip Michael Star of Dublin's Soap Opera Fair City Wins Huge Awards
Philip Michael winning multiple awards.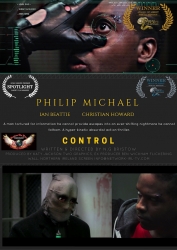 Los Angeles, CA, December 19, 2016 --(
PR.com
)-- Philip Michael, known for famous work in Dublin's Irish Soap, Fair City, playing the charismatic Joshua Udenze has received 2 awards for his action thriller short Control.
Philip is also specially known for the role of Pepper in the hugely worldwide successful musical, Mamma Mia starring Meryl Streep, Amanda Seyfried, Christine Baranski and Julie Walters.
Last year, Philip was part of an award winning production called Legend of the Mantamaji by Eric Dean Seaton, where Philip played the outstanding climatic superhero, The Mantamaji which received multiple awards. Philip specifically took best Superhero Award. Now Philip is back on the winning streak again.
Fair City was the big break that catapulted Philip into stardom. Philip booked the role from his hometown London, England and relocated to the city of Dublin initially for 3 months which became a 4 year gig. Quoting from another source, Philip states to blogger and write Steven Greene about that experience as, "Mind-blowing. It was the best news for me in years. What was superb was that during my final year showcase in Italia Conti i wanted to do an Irish play but one of the directors of the showcase said that I wasn't allowed to because im black and there are no black Irish roles and will never play such. That was heart disturbing for me. Yet for me to get my first role in Ireland on an Irish soap opera was ironically perfect."
The role was a Nigerian character from London that emigrated to Dublin. Joshua Udenze was the name of Philip's character with a love interest called Louise Doyle. The role covered themes of racism, love, family conflict and some very hard issues that people face within their cultural diversities.
In the month of November 2016, Philip received Best Action sequence and Best Hand 2 Hand Combat sequence at the Urban Action Showcase November 12th in New York for his Movie, Control. Control was written and directed by N.G Bristow who took a liking to Philip immediately upon seeing his martial arts and acrobatic movements. Philip's genuine organic approach in his acting work was already established and the addition of this movement skill began the vision of control. So what is Control? From the mouth of the director, "It is as a mash-up between The Matrix and Shameless!" - N.G. Bristow.
Control was also fight coordinated by Philip Himself and he was in charge of the Stunts with co star Christian Howard. Control was a highly professional production that in addition involved Joey Ansah (Bourne Ultimatum, Street Fighter: Legacy) as fight consultant, making sure as a second eye the fights made sense and had an organic feel. This is the 5th award received for the Team of Control including winning at the Action on Film Festival 2016, Best Shorts Awards and Spotlight Film Fest.
Contact
Archangel Entertainment
Philip Michael
323-639-9646
philip-michael.com

Contact