New Politically Themed Giftbox Brings Easy Last-Minute Gift to Politically Activated People
The Pantsuit Gift Box: Don't Feel Hopeless, Feel the Power; For the millions of women who joined the Pantsuit movement during the presidential campaign, Pantsuit Creations offers a pick-me-up gift that packages empowerment with a side of humor. Note to men: It's an easy-to-purchase-online gift that broadcasts father, boyfriend and brother solidarity. They've created a way for formerly Trump-supporting brothers and boyfriends to extend an olive branch. Pre-order for January pantsuitcreations.com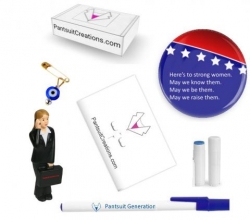 Thousand Oaks, CA, December 16, 2016 --(
PR.com
)-- The Pantsuit Gift Box "Don't Feel Hopeless, Feel the Power"
For the millions of women who joined the Pantsuit movement during the presidential campaign, Pantsuit Creations offers a pick-me-up gift that packages empowerment with a side of humor.
The custom-designed Pantsuit Gift Box is perfect for giving to friends who are recovering from the knockout punch of the election and heading back into the fray. Wearing pantsuits.
It's perfect for a good-luck gift to anyone attending the marches in Washington D.C. and across the U.S.
Note to men: It's an easy-to-purchase-online gift that broadcasts father, boyfriend and brother solidarity. It was designed in a way for formerly Trump-supporting brothers and boyfriends to extend an olive branch.
The contents are custom-designed, practical and whimsical at the same time, including a pantsuit-wearing stress toy, a safety pin with a "Guardian Eye" pendant, a women's power button...and a journal with information on how to contact elected officials. See detailed contents below.
Available now for pre-order at pantsuitcreations.com.
Cost is $19.95 Plus shipping.
Boxes will ship starting in early January.
Pantsuit Wearing Stress Figurine
When you need to trounce the stress of 2017, nothing beats a squeeze on this 5 inch stress figure, plus strengthen your hands Discreetly fits in your bag, and always there when you need her.
Guardian Eye Beaded Safety Pin
The "guardian eye" has been used as a talisman against evil since Classical Antiquity by numerous cultures and religions around the globe. Combined with the pin, a symbol of safety in the current U.S. meme since the 2016 election, it signals the wearer as a safe person with the added protection of the eye. Plus it looks great!
Pantsuit Generation Journal
This custom designed journal is compact and includes contact information for national elected officials in the U.S. It comes with a logo pen, keeping you at the ready to document your march and other Pantsuit events, keep track of follow-up topics for your elected representatives.
Strong Woman Pin
Calls us to action now and for the next generation. Pin is 3" diameter.
Organic Herbal Lip Balm
The Pantsuit Generation has a lot to say and speaking up increases the possibility of dry lips. Never fear, this 100% organic lip balm means business.
White Gold Safety Pin Necklace
The white gold dipped heart charm crystal safety pin pendant necklace from Secret Box is a nod to the Pantsuit Nation "secret" Facebook page.
It can be added to the gift box for an additional $14.95 or purchased separately.
See www.PantsuitCreations.com for more information.
Contact
PantsuitCreations.com
Karine Adalian
805-240-6028
PantsuitCreations.com
https://www.facebook.com/Pantsuit-Creations-639946019547599/

Contact