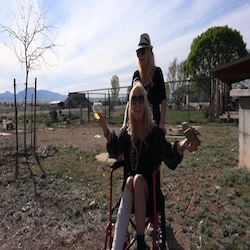 Los Angeles, CA, December 26, 2016 --(
PR.com
)-- Gas Money Pictures has released it's first reality show. Available for streaming on Amazon Prime, Just Face It gives an uncensored look at an unusual medical spa owner and her family and friends, as they embark on a series of hilarious misadventures.
Martine Abbey is a hard-headed, outspoken medical spa owner with unconventional business practices. From obsessing over employee conduct which she watches from home using a surveillance system, to heated arguments with staff, clients and friends, Martine is completely uncensored. What she lacks in tact, she makes up for in raw talent, passion, and - underneath it all - a heart of gold. Her talent and contagious energy have paid off, as she now has a thriving business in the heart of Las Vegas, despite her unconventional ways.
Viewers will get an uncensored peek into the lives of a cast of characters including Martine's sexually ambiguous, cat-loving colleague Tommy, and her culturally clueless, brand-crazy, and painfully loquacious friend and client, Anna.
The show will also explore motivations for seeking medical treatments to change the way women look and feel. From dealing with patients with BDD (Body Dysmorphic Disorder) who Martine will turn away, to exploring the profound emotional response a mother of three has to improving her sense of attractiveness, there are innumerable threads of stories that have gone untold in the beauty industry.
Just Face It will start a dialogue around what has been a traditionally taboo topic, and will stir up a healthy dose of unabashed controversy and fun along the way.
Available on Amazon Prime right now.
www.amazon.com/Pilot/dp/B01N47NHB0