Greenstone Joins Forces with Aglytix
Relationship seeks to bring new, advanced offerings to customers.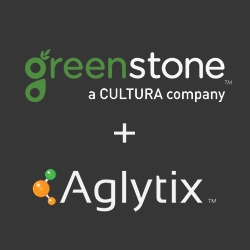 Alpharetta, GA, January 04, 2017 --(
PR.com
)-- Greenstone, a leader in business solutions for the agricultural sector has joined forces with Aglytix, a Mankato, MN based software company, to deliver optimization services to their customers. The relationship provides Greenstone's customers with additional analytical services to their growers enabling them to reduce inefficiencies, increase yields and improve profitability by taking practical actions at the field level.
With this dynamic combination, Greenstone customers can offer their growers the full range of Aglytix's unique analytic solutions, which provides actionable data on stand establishment, germination, weed density, crop health, field consistency zones and residue variability. Other Growers using the Aglytix platform have reported increases in yields of up to 25% and reductions of more than 15% in unnecessary costs.
Aglytix's advanced and patented analytics methods and algorithms locate, identify and quantify yield-limiting issues at the field level. They then identify their causes, quantify their impact on yield and profits and give growers and their advisors the in-depth information they need to make better, more well-informed decisions. Learn more about Aglytix and its SolverPod analytics platform at
www.aglytix.com
.
"This close working relationship is a unique opportunity for our customers. The capabilities of Aglytix solutions enables our customers to harness the true power of data and maximize scarce resources through valuable insight," said Kevin Hammer, general manager at Greenstone.
"Aglytix's solutions help growers make use of data to improve crop yields and reduce unnecessary operating costs," said Jerry Johnson, founder and CEO at Aglytix. "Agriculture already has a wealth of data, but unfortunately little of it is used effectively. Our lean farming approach uses our patented SolverPod technology platform to open up a new world of understanding for growers by putting this data to work for their benefit."
To learn more about Greenstone and their agricultural technology solutions, visit
www.greenstonesystems.com
About Greenstone:
Greenstone enables the diversified grain industry and co-ops to maximize value with a broad range of best-in-class business workflow solutions.
Greenstone's specialized knowledge is embedded in configurable solutions for capturing and leveraging critical business information. Like Greenstone on Facebook or follow on Twitter @greenstonesys.
Contact
Greenstone - a Cultura Company
Maija Hurst
404-640-3184
http://www.greenstonesystems.com

Contact