Former Sustainability and Governance Expert at Goldman Sachs AM Joins Leaders Arena to Advise Companies
Leaders Arena (LA), a London-based ESG corporate advisor, further expands in the US and Canada with the appointment of Heather Keough, former head of Sustainable Investing at Goldman Sachs AM. In a recent study, LA valued the ESG investor market opportunity for listed companies at USD 2.25tn.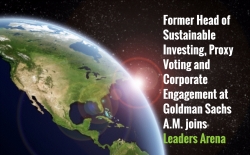 London, United Kingdom, January 31, 2017 --(
PR.com
)-- Heather Keough, former Head of Sustainable Investing and Governance Policy at Goldman Sachs Asset Management (GSAM) joined Leaders Arena in January 2017. Keough is based in the US while the firm seeks to expand its unique ESG tactical support services to US and Canadian listed companies. In its recently published study ESG Equity Market Monitor, Leaders Arena saw a 10.6% growth during 2016 in equity assets applying a thorough ESG integration process implemented by a growing number of responsible investors globally, which translates into a USD 2.25tn market opportunity for listed companies.
Details
The arrival of Heather Keough boosts Leaders Arena expertise on how institutional investors are integrating Environmental, Social and Governance (ESG) aspects when evaluating companies and on corporate engagement best practice between companies and investors. Keough led hundreds of stakeholder engagements during her previous role at GSAM.
Many companies are feeling overwhelmed amid a growing set of expectations related to a company's impact on the environment, society and how it governs itself, requiring additional support to communicate with responsible investors more effectively. The demand for these specialist services initiated in Europe and it is now also growing rapidly in the US and Canada.
Using a proprietary methodology, Leaders Arena's
ESG Equity Market Monitor study
, published in December 2016, highlighted a 10.6% growth in equity assets under management incorporating a full ESG-integration process during 2016. In addition, the same study quantified the total ESG-integration equity market opportunity for listed companies at USD 2.25tn.
Continued growth in the amount of capital allocated to companies managed by Responsible Investors, as well as an increasing importance to asset owners and "mainstream" managers of topics related to Environmental, Social and Governance (ESG), highlights the growing importance of integrating these factors into a company's performance in its regular communication with institutional investors.
Companies are feeling the impacts of an increased number of requests to improve practices and communication around ESG and sustainability. As the pressure increases, so does confusion as to where to start and how to prioritize the varied demands. Leaders Arena tracks 33 sustainability related indexes and rating agencies globally, all with different sets of criteria. There are also various reporting standards such as the Global Reporting Initiative (GRI) or SASB in the US. The number of requirements will only be increasing over time based on new legislation, particularly in Europe: the EU Directive on non-financial disclosure and the ongoing revision of the Shareholders Rights Directive.
According to Miguel Santisteve, Leaders Arena Managing Director, "These are issues impacting every global company; we are delighted to have Heather on board and to expand our services in our growing client base into North America with a senior consultant in the region. Within Europe we have seen a continued demand in our services over the last decade. Companies in the US and Canada are also experiencing a similar increase in the demand for information from responsible investors and index providers and we are very excited to be able to meet their demand for our services in this region."
Heather Keough, the newly appointed Senior ESG Consultant at Leaders Arena: "I am looking forward to partnering with companies as they work to make ESG practices meaningful and understandable. While there is not a one-size-fits-all approach for every company, there are certain standards evolving in the industry that need to be incorporated into disclosure and communication approaches."
About
Headquartered in London, Leaders Arena provides unparalleled tactical support and strategic guidance to listed companies that want to optimise their Environmental, Social and Governance (ESG)-related communication with the markets.
Contact
Leaders Arena Limited
Miguel Santisteve
+44 7840801721
http://www.leadersarena.global/
Heather Keough, Senior ESG Consultant: heather@leadersarena.global +1 517-862-7580

Contact