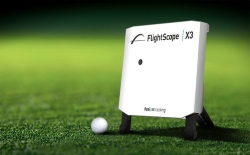 Stellenbosch, South Africa, February 04, 2017 --(
PR.com
)-- FlightScope was originally founded by radar engineer Henri Johnson in 1989 to develop systems that measure projectiles for the defence industry, but it strategically diversified into sports applications in pursuit of growth. In 2006 HBD Venture Capital, owned by internet billionaire Mark Shuttleworth and managed by local VC firm Knife Capital, became a funding partner in FlightScope's worldwide expansion strategy. "We saw tremendous potential in applying world-class technology to bridge the gap between the passion and science of sports," said Knife Capital CEO Eben van Heerden. "We anticipated the impact smart devices would have on this unique niche and teamed up with tenacious entrepreneurs who could execute." The capital injection from HBD was the catalyst for FlightScope to aggressively step up the international marketing and sales of its products and services and protect the company's intellectual property worldwide.
A clawback provision allowed the entrepreneurs to "claw back" some shares from HBD over the first three years of the investment based on achieving certain performance milestones. "It was a celebratory moment when we handed over some share certificates in a profitable de-risked portfolio company," said van Heerden.
With over two decades of experience in the field of Doppler radar and phased array tracking technology, FlightScope seized the opportunity to lead the industry and expanded its applications into:
Golf – FlightScope's golf products provide 27 measurements of ball flight and club head parameters for golf instructors, club fitters, professionals, and equipment manufacturers;
Tennis – FlightScope supplies all chair-umpire scoring systems to the ATP, WTA, ITF, Wimbledon, and many other individual tournaments;
Cricket – FlightScope is a leading supplier for bowling speed measurement systems for televised games;
Baseball – FlightScope provides systems to for baseball coaches and scouts to measure pitches, hits, and pop time.
In 2008 FlightScope relocated its headquarters from Stellenbosch to Orlando, Florida – a key location for the golf industry – to get closer to its end customers and focus on business development.
As with most entrepreneurial growth journeys, the FlightScope team had to overcome many challenges along the way, but with each new product launch the business grew stronger. FlightScope was positioned for an international exit and soon attracted attention from sports equipment manufacturers in various industry verticals. In considering deal-structuring alternatives, the management team ultimately preferred to unlock additional potential in a continued growth phase. "It was good to have various exit options on the table, but the stars aligned for a management buy-back transaction. HBD was very supportive of this structure as the investment team has always been an enabling partner in our growth journey," says Henri Johnson, CEO of FlightScope. This exit is unique in the sense that a management buy-back was achieved without compromising on venture capital portfolio return criteria, and there is continued involvement by key stakeholders to facilitate post-deal success.
The transaction marks an impressive track record of successful South African venture capital exits of the HBD Fund that already boasts mobile financial services company Fundamo to Visa and predictive analytics company CSense to General Electric. Knife Capital partners Eben van Heerden and Keet van Zyl – who recently launched a new SARS Section 12J Venture Capital Company in South Africa: KNF Ventures – will remain on the FlightScope board as independent non-executive directors.