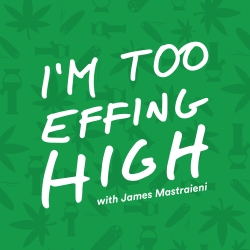 Los Angeles, CA, February 08, 2017 --(
PR.com
)-- Are comedians more funny when they're high? That's what the podcast and late-night comedy show, I'm Too Effing High, is trying to find out.
Created and hosted by James Mastraieni (Comedy Central, The UCB Show), I'm Too Effing High combines the charming spontaneity of "@Midnight" or "Whose Line Is It Anyway?" while adding a heavy dose of THC.
"It was only a matter of time before my love of marijuana and my love of comedy would meet," says Mastraieni. "I mean, the two have been working together unofficially for a while, now we just turned it into a show."
Part talk show, part game show, each episode features a new panel of stoned comedians tasked with comedy challenges, games, and performances, plus a cast of recurring characters and segments, showcasing what happens when you get too effing high.
"What I love about comedy is that I get insight into a comedian's thoughts and interpretations. And while on marijuana those thoughts and interpretations come out through a different filter. Sometimes those thoughts are stranger, sometimes they're sillier but they're always really interesting. Plus high people are just funny to watch," adds Mastraieni.
Boasting monthly sold-out shows the second Friday of every month at the Upright Citizens Brigade theater in Los Angeles, and a rapidly growing weekly podcast, I'm Too Effing High features a slew of LA's top comedic talent with credits including Jimmy Kimmel Live, Children's Hospital, Comedy Bang! Bang!, Adult Swim, MTV, Comedy Central, and more.
New episodes of the podcast drop every Tuesday and can be heard on iTunes, Stitcher, Google Play, and all other podcast platforms. And don't miss the next live show, Friday, February 10th at UCB Franklin, with special guests Jacob Wysocki, Allan McLoud, and Jennie Pierson.
About I'm Too Effing High: I'm Too Effing High is produced by James Mastreani, Mike McLendon, Matt Newell, Dhruv Uday Singh, and Andrew Steven. For more information please visit imtooeffinghigh.com.