The Robin Hoodie Emerges on Kickstarter
The highly anticipated, tunic-inspired hoodie has finally found its way to Kickstarter.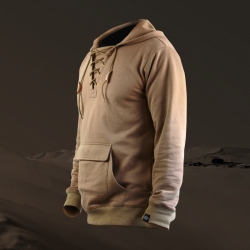 San Diego, CA, February 08, 2017 --(
PR.com
)--
Coronam.co,
a streetwear startup aiming to bring original cut & sewn fashion pieces to the industry, has dropped their first ever Kickstarter campaign. The company, which prides itself on crafting unique fashion items with fair trade manufacturers, is launching their highly anticipated "
Robin Hoodie
," a name derived from its classic tunic-inspired look, as a crowdfunded campaign which runs through March of this year.
"Kickstarter is a great platform for fashion," says owner and creator, Elias. "It allows us to design something and let the community decide the best price points and desirability. Streetwear is a very community driven industry, so it's important for us to be in it, rather than a brand that tries to sit on top."
The company revealed that they have already hoodie samples and have distributed them to early adopters and influencers of January of this year, and while the hoodies will be manufactured overseas in fair trade factories, the designs and samples will continue to be developed in San Diego.
Kevin, president of
Coronam, Co
. had this to say, "We are excited to see where our very first crowdfunded campaign takes us. We hope to see success and look forward to building many more campaigns in the future as we release new and upcoming products."
To learn more about the campaign, future plans, or to book an interview, contact Coronam, Co. at email hi@coronam.co, or visit the website at
www.coronam.co
. You may also visit the campaign directly on
Kickstarter
.
Contact
Coronam, Co.
Elias Ghosn
619-555-5880
https://coronam.co

Contact