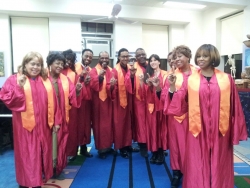 New York, NY, February 15, 2017 --(
PR.com
)-- The Late Show's Gospel Choir Celebrates New CD
The Late Show's Gospel Choir, known as "The Best A Cappella Choir in NYC," will celebrate the release of their second CD, "Jesus Lives in Me," with a free concert at the Shrine World Music Venue, located at 2271 Adam C. Powell Blvd., (7th Avenue, between 133rd & 134th Streets), in Harlem, NY, on Wednesday, March 1st, 2017, at 9 p.m.
This amazing choir will sing a lively variety of uplifting Gospel songs from their new album which includes a salute to some of the traditional hymns recorded by Gospel's Queen, Mahalia Jackson, as well as six Urban-Gospel songs written by Lady Peachena that will surely raise you spirits.
Expect Lady Peachena & the LSG Choir to sing her biggest hit, Grammy-nominated song, "Dancing in the Spirit," which was just recorded by Gospel great, Cece Winans, on her new rising Top Ten CD, "Let Them Fall in Love." "I'm so happy that Cece's son, Alvin III, talked her into covering my song," Lady Peachena revealed. "Her brothers, (Bishop) Marvin & the late Ronald Winans, recorded it 29 years ago with their Family & Friend's Choir on Selah Records. It was an international smash hit then, and it'll surely be a chart-topper again!"
The Late Show's Gospel Choir, founded by Lady Peachena, was seen by millions of viewers worldwide singing on CBS TV's "Late Show with David Letterman," for 10 years in a row, from October, '95, to December, 2005. This superb choir also went on two outstanding sold-out tours to 17 cities of Spain, in 2011. In 2012, The Late Show's Gospel Choir has sang twice with hot rock band, 30 Seconds to Mars, on MTV'S "MTV Unplugged" & on NBC's "Tonight Show with Jimmy Fallon." They were featured on TRU TV with comedian Billy Eicher's "On the Street with Billy," & later this month they'll be featured on TRU TV's "Impractical Jokers." Last May, The Late Show's Gospel Choir performed with 13 of Sweden's hottest singers at the world-famous Apollo Theater, in the dramatic 4-part TV docu-series, "En Kvall i New York," ("One Night in New York") which aired on SVT TV in Sweden this past September to rave reviews.
For info and reservations at the Shrine World Music Venue call: 212-690-7807. CDS will be available for sale! For bookings of The Late Show's Gospel Choir visit their website at: www.lateshowsgospelchoir.com. This phenomenal choir's first CD, "God Bless America" is available at: www.cdbaby.com/thelateshowsgospelchoir. If you can't wait, and want to download the new CD now, go to: www.cdbaby.com/ladypchoir7.
Sum Very Peachy Music Publishing Co.
Contact: 917-916-7375 2/14/2017