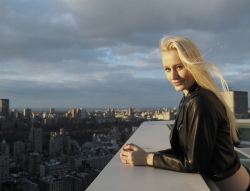 New York, NY, February 15, 2017 --(
PR.com
)-- The album is a unique collection of jazz standards from The Great American Songbook, featuring Seena's velvety, sensual and husky vocals. Jim Czak (Lena Horne, Bob Marley, Daytime Emmy Award for Outstanding Achievement in Sound Mixing) is engineering. Seena previously released the EP "Seena" in 2016, available exclusively on Spotify, which garnered recognition for her rendition of the classic "Dream A Little Dream Of Me."
Seena is currently performing live shows with her band The Suits at select locations in Manhattan. Seena and The Suits was the first band to bring jazz to the top of the tallest building in the Western Hemisphere, The Freedom Tower, in 2016.
Says Seena: "This album is the culmination of the nearly 100 live shows I played with my band last year. My emphasis is on improvisation and originality, staying true to my own convictions, as well as to those of each member of my band. My background as a trained dancer often makes me look at the arrangements and details of each song from a different perspective than my band. It ads to the creative process. My successful career as a model, especially working closely with top designers as a fitting model, allows me to have patience when creating in the studio and not settle. With this record I hope to inspire my audience to take risks and create more of what they think is beautiful in this world."
Seena.Com