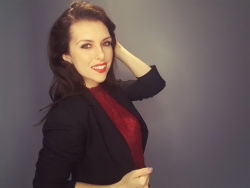 Montvale, NJ, March 01, 2017 --(
PR.com
)-- Alexandra E. Reilly of Montvale, New Jersey has been recognized as a Professional of the Year for 2016 by Strathmore's Who's Who Worldwide for her outstanding contributions and achievements in the Solar Energy and Personal Development fields.
About Alexandra E. Reilly
Ms. Reilly has several years' experience in the Solar Energy and Personal Development fields. Ms. Reilly's most recent endeavor within the Solar Energy industry has been as the Business Development Coordinator for Sun Blue Energy. Sun Blue is a boutique Solar Energy company located in Sleepy Hollow, New York. It provides sales of solar energy systems and educates consumers and communities about renewable energy. Ms. Reilly spearheaded the sales, marketing and the business-2-business (B2B) outreach initiates while there. She excelled in these efforts in large part due to her experience as the Chief Executive Officer (CEO) of her personal development business Living Like Queens. Ms. Reilly's passion is to reignite within individuals and businesses the greatness within. As such, she has also been recognized for her forward thinking and strategies in such forums as the Rotary Club of Tarrytown, where she held a board seat.
While Ms. Reilly is early in her business and personal development career, she has been consistently reaching ever higher. She recently partnered with Houzz, a leader in remodeling and design ideas for home owners, to develop a renewable energy inspired marketing campaign. Additionally, Ms. Reilly also launched a series of inspirational and how-to video blogs on her personal development platform Living Like Queens to help individuals achieve their greatest self. Her savviness in integrating and leveraging desktop and mobile platforms to deliver highly successful educational and business development campaigns continue to attract higher and higher social media audiences.
Ms. Reilly's passion and savviness with developing her Living Like Queens platform in conjunction with her interests in culinary arts and fashion is resulting in an integrated Lifestyle platform for her subscribers.
"..to whom much is given, much will be required" -(Luke 12:48)
For further information, contact
http://www.livinglikequeens.com/
.
About Strathmore's Who's Who Worldwide
Strathmore's Who's Who Worldwide is an international advertising, networking and publishing company based in Farmingdale, New York. They are proud to be able to satisfy their clients and continue to have repeat clientele due to their longevity and pride in their products and services. The Owners strive to connect business professionals to enhance their contact base and networking capabilities so they can get the acknowledgment and publicity within their industries and beyond. The Strathmore family has been providing these valuable services for over two decades. They target executives and professionals in all industries to be featured in their publication and on-line directory. Industries include business, law, education, healthcare and medicine, fine arts, IT, government, science, real estate, entertainment and many more accomplished fields. Professional profiles are listed in an annual hardcover journal and in a detailed, searchable database on the website www.strww.com.