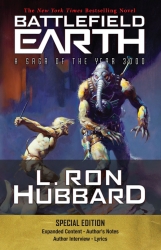 Los Angeles, CA, February 22, 2017 --(
PR.com
)-- There is no denying that science fiction authors have a dramatic impact on actual science from Isaac Asimov to L. Ron Hubbard to Arthur C. Clarke.
Tech genius Elon Musk was asked how he learned about rockets, to which he replied, "I read books." In a recent article, 8 books were listed that shaped the entrepreneur, including The "Foundation" trilogy by Isaac Asimov. So one wonders if these science fiction authors are receiving the credit they deserve.
In a Feb. 1983 interview given by L. Ron Hubbard to Rocky Mountain News following the release of his science fiction novel, "Battlefield Earth: A Saga of the Year 3000," Mr. Hubbard predicted the eBook when he commented, "Books, too, will change. You will be able to carry your own pocket computer library. Later, the computer will be able to 'talk' to you and 'read' to you."
Then there was Jules Verne who not only described the submarine in 1870 in "Twenty Thousand Leagues Under the Sea," but also wrote a book titled "Clipper of the Clouds" (1886) envisioning the future of flight, which inspired Igor Sikorsky to invent the helicopter. Verne declared, "Anything that one man can imagine, another man can make real."
More and more, you hear people talking to "Siri" on their iPhones, which has advanced to a point where one can have two-way conversations with the computer assistant. This is much reminiscent of "Hal" from Arthur C. Clarke's "2001: A Space Odyssey." People have tested Siri by asking "Open the pod bay doors." To which, she replies, "I'm sorry, I'm afraid I can't do that," a famous line from Hal in the film adaptation. As humorous as it is, this technology was pure science fiction in 1968.
We find science fiction authors in the unique position of dreaming up our future. As L. Ron Hubbard put it, "Science fiction is the herald of possibility."
May we continue to be inspired by these stories.
To find out more about "Battlefield Earth," go to www.battlefieldearth.com.