Howard Hewett Releases New Single Sure to Become Classic
Legendary Crooner, Howard Hewett released a new single just in time for Valentine's Day and its already quickly on its way to becoming a Classic. This is the first release off of his upcoming project to be released this fall.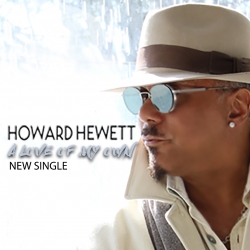 Los Angeles, CA, February 22, 2017 --(
PR.com
)-- Legendary R&B crooner, Howard Hewett released new music for Valentine's Day! Hewett, who is also known as the lead singer of the group Shalamar, has released what is sure to become his next "classic hit." His latest release titled, "A Love of My Own," will take you on a journey. A discovery of finding real love when you least expected it. Once again, Hewett speaks to the heart through amazing lyrics and a soulfully smooth voice.
Hewett, known for such hits as "The Second Time Around," "I'm For Real," "Stay" and "Amen" has once again created a new sound to reach music lovers across the globe. His latest single is from his upcoming project, set to be released this fall. Hewett unleashes his inner cupid and belts out lyrics that will make even the hardest of hearts, believe in the power of love.
Hewett, who is working on expanding his style and touching new sounds in the music he is creating, Hewett looks to deliver an even more inviting flavor of love, inspiration and songs that will again stand the test of time.
Hewett released his latest single "A Love of My Own," under his own independent label, Incendiary Entertainment. It will be distributed in the United States by Illustra Distribution and Internationally via Global Soul Group. The single is available for download on all digital outlets. To follow Hewett's latest concerts, releases, podcast ad Live! feeds, log in to www.howardhewettmusic.com
For Press Information contact Gwen Prieestly 323.972.3268
Contact
CM3 Media Group, Inc.
Anita Wilson-Pringle
(323) 250-2666
www.cm3mediagroup.com

Contact