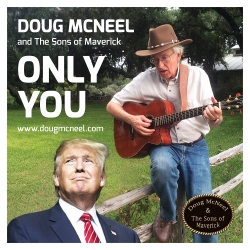 Los Angeles, CA, February 22, 2017 --(
PR.com
)-- A Texas real estate attorney and his band take aim at a very serious topic and in the process, provides the perfect example via President Elect, Donald Trump. Doug McNeel and The Sons of Maverick have released a new song and video entitled "Only You." In this video McNeel uses music and images to bring the subject of narcissism to the forefront, using it as a conversation opener about a mental issue that affects thousands of people each year.
Narcissism is defined as "…extreme selfishness, with a grandiose view of one's own talents and a craving for admiration, as characterizing a personality type." Most people in the world would say this aptly describes President Donald Trump. McNeel not only uses Trump as the perfect narcissistic example, but provides other examples and images as well. With the likes of professional athletes, actors, politicians and more.
Done as a spoof and created to the tune of original Americana music, McNeel and the Sons of Maverick have hit this one home. Providing laughter and knowledge at the same time as exposing a very serious psychological issue plaguing more and more people each day.
"Only You" is not only a music video but a useful tool to be used in the discovery process of acknowledging that narcissism does exist and can be treated. Video can be viewed at (https://tinyurl.com/dougmcneel) McNeels single has been released internationally and is picking up fans across the world.