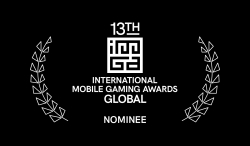 New York, NY, February 25, 2017 --(
PR.com
)-- Global Fans Can Vote Online to Help eQuiz win the People's Choice Award at http://www.imgawards.com/games/equiz/
eQuiz has been nominated in the 13th International Mobile Gaming Awards Global. The IMGA is the longest standing and highest regarded mobile games award program started in 2004.
eQuiz comes to the market by SilverMotion, Inc. a startup based out of New York. eQuiz brings heavy competition to the leaders in trivia games, QuizUp and Trivia Crack, with its sophisticated and rich gameplay not found in the leading competitors.
"Nominees like eQuiz highlight the new standard of creativity and the emerging quality of the productions found in mobile gaming," said Maarten Noyons, founder of The IMGA.
"We couldn't be more proud to be nominated by the IMGA. We are honored to be recognized among the top mobile games of the year as a new publisher and with our very first game. It's incredibly humbling to share a nomination with Pokémon Go, SuperMario Run and the other incredible games in the space. We are ready and excited to share eQuiz with the world," said Oscar Negroni, co-founder of SilverMotion, Inc.
As a nominee, eQuiz is also eligible to win the People's Choice Award, which is voted online by fans across the globe. eQuiz leads the other nominees in shares. From now until February 27, 2017 eQuiz fans and gamers can cast their votes at http://www.imgawards.com/games/equiz/.
Winners will be announced on February 28, 2017 during the highly anticipated IMGA ceremony, which will take place in San Francisco.
About eQuiz:
eQuiz is a fun and free trivia game that lets you test your knowledge and challenge your friends to a battle of wits. Hundreds of fascinating topics and thousands of questions, eQuiz is guaranteed to provide you hours of fun!
Website: http://www.eQuiz.com
iOS: http://apple.co/2bgSdaD
Android: http://bit.ly/equizplaystore
Follow eQuiz:
https://www.facebook.com/equiztrivia
https://www.twitter.com/equiz
https://www.instagram.com/equiztrivia/
https://www.pinterest.com/equiztrivia/
About the International Mobile Gaming Awards:
The IMGA is the longest standing mobile games award program started in 2004. With its long history and unique judging process, it has brought some of the world's most popular titles into the limelight the likes of Candy Crush Saga and Clash of Clans. It is the only competition that unites the industry by celebrating excellence and innovation in games.
For full details visit: http://www.imgawards.com or call: +33 491 315 217. You can also follow us on Twitter or Facebook.
Contact: Ajay Arora, Founder
Phone: 212.584.6800
Email: info@equiz.com