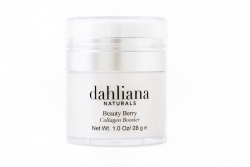 Sacramento, CA, March 13, 2017 --(
PR.com
)-- Dahliana Skincare has just released Beauty Berry Collagen Booster, a day cream that features cold-pressed juices, the latest tri-peptide technologies, and floral essences to aid in cell regeneration and youthful skin.
The cream is available online at
Dahliana.com
and is specially formulated for oily, normal, combination, and mature skin types to use as a daily moisturizer or night creme. The blackberries in the cream contain vitamins A, K, and C that aid in skin rejuvenation while the cranberries are high in B3 and B5--both powerful antioxidants.
Dahliana's Beauty Berry Collagen Booster also offers ylang ylang as a mood-lifting aromatherapy alongside cold pressed rhubarb and pear juices to nurture skin. The day cream also is in line with Dahliana's beliefs by containing no chemicals, parabens, animal products, or GMO's while listing all secondary ingredients.
Dahliana is an organic skincare line featuring naturally derived ingredients that are organic, vegan, and GMO-free. It seeks to help women achieve youthful skin and serve all skin types. The line has received several awards including LNE & Spa's Best Product for 2016 and 2017 while being mentioned in many publications including the Zoe Network, Raw Magazine, the L.A. Examiner, and at London Fashion Week.
For more information please visit Dahliana.com, e-mail Kelly@Dahliana.com, or call 888.569.6867.