Kickstart a Healthy Spring 2017 with Eatology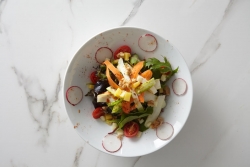 Hong Kong, Hong Kong S.A.R., March 13, 2017 --(
PR.com
)-- Bounce back from Winter with a carefully curated meal plan by Eatology. Offering up calorie controlled meal deliveries that are both nutritious and filling, Eatology is a sure-fire way to get back on track after the holidays.
Get into the swing of the new year... And that pair of skinny jeans, by opting for up to three meals and two snacks delivered directly to the door each day. A range of over 1000 delicious recipes means that meal fatigue is never a risk — dishes such as freshly baked Blueberry Bread are a delicious way to start the day whilst hearty dinners such as Steamed Halibut with ginger, soy sauce and scallions are reason enough to stay in at night.
Ingredient driven with a focus on the hormone free and organic, Eatology strives to provide the absolute best in nutritional value. Vegan's and vegetarians can also take advantage of the service with dedicated programs catering to dietary requirements and making the most of artisanal products such as dairy-free coconut yoghurt.
Each dish is a collaboration between Michelin trained chefs and Eatology's dedicated dietician, to ensure that meals are packed full of vitamins and minerals for maximum wellness.
Customers can go one step further by kicking off their program with a consultation with Eatology's resident health coach who works with clients to make recommendations on supplementary activities. The result? An all-encompassing wellness program that runs alongside each Eatology meal plan. Participants can expect improved energy levels and quality of sleep as well as healthy weight loss, making for a brilliant start to Spring 2017.
Eatology also offers a lunchtime delivery service for those looking for a healthy midday meal. Worker bees can simply round up a group of ten colleagues and a nourishing and wholesome lunch box will be delivered to the desk.
That's not all. Eatology's packaging is 100% compostable so customers can start the new year with a treat for their bodies and the planet.
Eatology's meal programs start from HK$308 a day.
Learn more at
www.eatologyasia.com
or contact@eatologyasia.com
Contact
Eatology
Guillaume Kaminer
+85291020149
www.eatologyasia.com

Contact