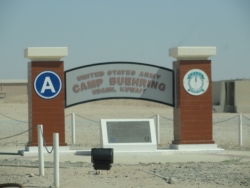 Chicago, IL, March 15, 2017 --(
PR.com
)-- BBMC Mortgage, a wholly-owned subsidiary of Bridgeview Bank, is hand-delivering love and support to U.S. military personnel overseas stationed in Kuwait and the United Arab Emirates.
The journey began on February 20, when BBMC prepared hundreds of care packages. On Monday, March 7, two Executive representatives, Todd Jones (President, Retail Mortgage) and Elana Ross (Vice President of Corporate Relations), embarked on the 12 and-a-half hour flight into Dubai. After a layover in the UAE, the ambassadors made their first stop at Ahmed Al-Jaber Air Base.
Since then, subsequent visits were made to Camp Buehring – a major deployment hub for U.S. and coalition troops heading into Iraq, Afghanistan and surrounding areas – Ali Al Salem Air Base and USO Camp Arifjen.
BBMC President of Retail Mortgage, Todd Jones, experienced life as a U.S. Army Captain. Thanks to this trip, he could better grasp the USO's scale of operations as a civilian.
"It's amazing to see the capabilities of our military," Jones said. "None of this works without every single link in that chain. The USO is there to give that comfort and that connection to every single link in that chain."
The experience is shaping up to be mutually valuable to the BBMC ambassadors and to the service members receiving care packages with our messages of support.
To see more, follow the updates at:
www.facebook.com/BBMCMortgage.
For further inquiry, please contact Jessica Rowe at
j.rowe@mybbmc.com
.