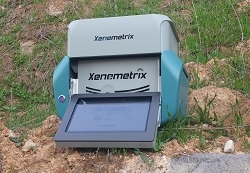 San Francisco, CA, March 19, 2017 --(
PR.com
)-- Xenemetrix will showcase its new P-Metrix Portable XRF Analyzer and also display their advanced direct excitation and indirect excitation EDXRF Analyzers.
Migdal Haemek, Israel. Xenemetrix LTD will be presenting its diverse lines of X-ray fluorescence (XRF) instrumentation at the 2017 ACS Spring Meeting, Sunday, April 2 through Tuesday, April 4. The event is organized by the American Chemical Society and will be held at the Moscone Convention Center in San Francisco, CA.
ACS National Meetings provide researchers with current scientific, professional and product information news through various poster sessions, exhibitions, seminars and networking events.
Xenemetrix, an innovative cutting edge company in X-ray analytical instrumentation - will be exhibiting at the event at booth # 1706.
ACS National Meetings provide researchers with current scientific, professional and product information news. The theme for the Spring event is: "Advanced Materials, Technologies, Systems and Processes."
Analytical and industrial instrumentation from Xenemetrix range from portable field or at-line instrumentation, benchtop units ranging in performance to floor standing advanced capability laboratory instrumentation. Xenemetrix instruments are suited for researchers employing X-ray techniques to characterize their materials, processes and helping to refine their technology.
Among the instruments on display at the event will be presented the Xenemetrix P- Metrix portable analyzer. The innovative P-Metrix Portable EDXRF analyzer is a compact EDXRF designed to produce lab quality results in the field or at-line. Additional Xenemetrix products will be demonstrated at the ACS event; The X-Calibur, Xenemetrix's powerful 50kV, 50W direct excitation system with a selection of Primary Beam Filters/ Collimators to provide enhanced performance and also presented is the Genius IF - the ultimate sensitive and compact size benchtop which provides monochromatic excitation using the Xenemetrix WAG geometry secondary targets and measures sub ppm detection limits for a wide range of elements. Improved light element performance is possible with new generation detectors. These features allow the Genius IF to push back the frontiers of performance to provide a very sensitive analytical tool at a very affordable price point.
More information about the P-Metrix benchtop EDXRF is available at
P-Metrix
or www.xenemetrix.com.
For further information, contact:
Orly Jacobs
Xenemetrix Marketing Group
tel: 972-54-4252515
orly.j@xenemetrix.com