5th Wheel President at the Forefront of Positive Change and Innovation at TTSAO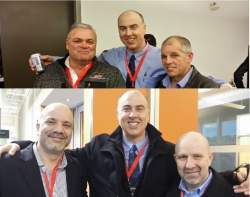 Haileybury, Canada, March 21, 2017 --(
PR.com
)-- The Truck Training Schools Association of Ontario Inc. (TTSAO) was founded in 1993 to ensure students enrolled in truck training programs were coming out knowledgeable, competent and safe. Its goal was ultimately to maintain public confidence in truck drivers, a goal that has been well met. There is celebration at 5th Wheel Training Institute, a founding member and one of the top commercial truck training schools in Ontario, for Ed Popkie.
Ed is currently the President of 5th Wheel Training Institute and has been a member of the Board of Directors at TTSAO since his appointment in 2014. His co-directors and fellow members include Geoff Topping from Challenger Motor Freight, Mike Millian from Private Motor Truck Council, Charlie Charalambous from Making Eligibility Easy, and TTSAO Chairman Kim Richardson. Together they have amassed a long list of achievements. They have spearheaded initiatives including the Annual TTSAO Conference and were active in implementing the MELT program with the Ministry of Transportation. MELT has insured mandatory minimums for prospective truck drivers bringing safety and know-how to new light. They have participated in and completed the Strategic Plan for 2016 and created a Carrier sub-group within the organization. The appointment of these progressive leaders has brought a much-needed trucking and insurance industry perspective to the board level.
Ed Popkie is setting his sights for greater change and impact within the organization. During the Board of Director Elections in the summer of 2017, Ed is running for the seat of Vice President. He sees the value of this organization and has great plans for its future. Among the positive changes he seeks are improving the by-laws created during the Strategic Planning Sessions in Summer 2016 and sign more Truck Industry partners into the TTSAO. He also wants to partner with government bodies to deal with non-MELT compliant schools and work with the insurance industry to improve opportunities for entry-level drivers. He hopes to build partnerships with Trucking Industry Carriers to hire TTSAO graduate drivers, a win-win for all parties involved.
If the past is any indication, the TTSAO will flourish under his leadership.
About 5th Wheel Training
Founded in 1985, 5th Wheel Training Institute is one of Canada's most-respected commercial driving training schools. 5th Wheel Training Institute is fully PDTI-certified, one of only four such schools in Ontario, guaranteeing every graduate is fully competent to safely operate heavy vehicles. Ed Popkie is current President of 5th Wheel Training Institute.
For more information, please contact 5th Wheel Training Institute at https://5thwheeltraining.com or call 888-545-0461.
Contact
5th Wheel Training Institute
Steve Amyot
888-647-7202
5thwheeltraining.com

Contact