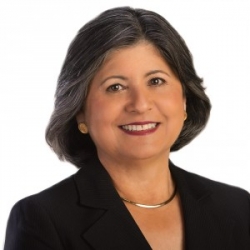 San Marcos, CA, March 22, 2017 --(
PR.com
)-- Irma Cota announced today at NCHS' 2017 Report to the Community that in the Spring of 2018 she will retire as President and CEO.
Cota has been the President and CEO of NCHS since 1997. Under her leadership, NCHS has been the recipient of countless awards and has expanded to fulfill the ongoing needs of its communities. She has supported the expansion of existing NCHS facilities as well as the build-out of new facilities all in response to the ongoing healthcare access issues. In 2016, the number of cumulative users accessing care at NCHS increased to nearly 65,000 patients resulting in 292,495 visits, an increase of 11% from 2015.
"As I reflect on the past twenty plus years I am beyond proud of all that NCHS has accomplished, and am more energized than ever as I begin my last year with NCHS," stated Cota. "I am also reminded our work is not yet done."
Her retirement has been well orchestrated, and for the last 18 months, the NCHS Board of Directors in collaboration with NCHS' Corporate Executive Team has been preparing. Although it is bitter-sweet everyone supports Cota in her decision to retire in 2018 so that she can enjoy the next chapter of her life.
The NCHS Board of Directors will undergo a comprehensive process to help select Irma's successor to ensure that the next President and CEO will continue to keep NCHS successful for years to come.
Save the date as we plan to celebrate Cota's retirement, her legacy and her countless contributions as a public health champion. Details are as follows:
NCHS' Farewell Gala: Celebrating the Legacy of Irma Cota, Healthcare Leader & Champion
When: Saturday, February 17, 2018
Where: Sheraton Carlsbad Resort & Spa
5480 Grand Pacific Drive
Carlsbad, CA 92008
Sponsorship opportunities are available. Please visit nchs-health.org for more details. NCHS is well positioned for continued growth and remains poised to continue to promote Cota's legacy and commitment to service, health care for all and community wellness.
About NCHS
NCHS is a private not-for-profit organization that serves over 62,000 patients annually at 12 community health centers in Carlsbad, Encinitas, Oceanside, San Marcos, Ramona, Perris, and through two mobile clinics. NCHS has been providing affordable, quality & comprehensive care to members of our communities who are uninsured or underinsured for over 45 years. Services at NCHS include pediatrics, obstetrics, gynecology, dental care, radiology, pharmacy, and transportation services, as well as, community health outreach, prevention, and disease management programs.