New Business Book Released – Experience My Brand
The book addresses the largest challenge common to any organization wanting to design and execute a customer experience program that is sustainable and differentiates them in the marketplace.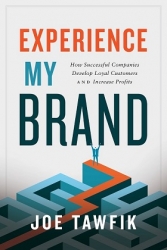 Dubai, United Arab Emirates, March 27, 2017 --(
PR.com
)-- Kinetic Consulting Services, the leading consulting company for branded customer experience announces the worldwide release of a new business book, "Experience My Brand."
"Experience My Brand," author and CEO Joe Tawfik, shows the reader how to analyze, design, and implement a branded customer experience program. The book overcomes the largest challenge facing organizations by providing a detailed guide that will achieve an increase in bottom-line profits and the number of loyal customers.
Heralded as the last battleground for competition, customer experience management has become a core strategic imperative for many organizations. Building unique emotional ties with customers that are stronger and difficult for competitors to imitate is considered the cornerstone for organizations to achieve an unbeatable competitive edge in today's market.
Known as "branded customer experience" the association of experiences specific to a brand has created mega organisations such as Apple, Zappos and Amazon. To deliver a great branded experience to customers, an organization must embrace customer experience management as their highest priority if they are to prosper in the future.
Tawfik wrote the book because the large majority of companies are failing to achieve any sustainable value from their customer experience programs, and were wasting their investments on changes that delivered mediocre results. Research undertaken by Accenture in 2015 identified that 77% of firms were not achieving any increases in bottom-line profits from their customer experience programs.
With clear data to complement the text, "Experience My Brand" puts theory into practice in a way that is practical and easily understood. Readers are provided the tools to effectively implement transformational change and create a unique and sustainable experience for their customers.
"Experience My Brand" is a must-have guide for those who want to learn about this increasingly important field and seek to strengthen this critical aspect of their businesses.
The book can be purchased from Amazon or from leading book retailers.
Contact
Kinetic Consulting Services
Joe Tawfik
+971 4455 8410
www.kineticcs.com

Contact