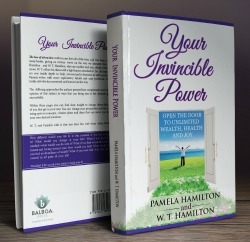 Detriot, MI, April 03, 2017 --(
PR.com
)-- Book release date launched on March 28, 2017. Your Invincible Power have re-energizing and rejuvenating their first book - Your Invincible Power: Open the Door to Unlimited Wealth, Health and Joy - with more tools and techniques to enable you to renew, re-energize and rejuvenate your life. From the completely revamped front cover to the renewed content it looks and feels like a fresh new release.
After joining The Change book community, being mentored by Jim Britt & Jim Lutes and receiving social media mentoring from Kelli Phillips Locatelli, the authors of Your Invincible Power knew it was the perfect time to relaunch their first book.
"Since writing our first book we have learned so much about marketing and promoting books including successfully launching 4 other motivational books about the law of attraction, we always felt that the first book never had the same opportunities to grow the way the other ones did," says Author Pamela Hamilton.
Pamela Hamilton and W. T. Hamilton, who are mother and son, clearly write with different views. W. T. offers his ideas with a light humor attached to his life experiences and offers you inside depth to help you succeed in business as well as your personal goals. Pamela writes with more exploratory details and uses particular points from the inside info she has examined and learned on the way.
The differing approaches the authors present here complement each other's vision and opinion of this subject in ways that can bring you to the ultimate goal in your life successfully.
"This book not only tells you the what, it shows you the how!" says Author W.T. Hamilton.
Your Invincible Power: Open the Door to Unlimited Wealth, Health and Joy published with Balboa Press and division of Hay House is available everywhere now.
Learn more about the authors at www.yourInvinciblepower.com