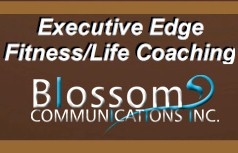 Calgary, Canada, February 07, 2008 --(
PR.com
)-- California 103/Fuel 90.3,The Executive Edge and Blossom Communications will transform the lives of two lucky Calgarians - one man and one woman - in an unprecedented eight-week extreme makeover challenge starting February 1st 2008.
Calgary's Blossom Communications, The Executive Edge, joins California 103/Fuel 90.3 for the extreme makeover challenge. Starting on February 1st 2008, contestants can start entering the www.newyoucontest.com website for the chance to win a dream makeover by their fashion and wellness consultants. Contest closes February 14; the winners will be announced on air, with the unveiling disclosed at Blvd Lounge on April 4. Blossom Communication will provide consultants for the extraordinary head-to-toe transformation. The eight-week extreme makeover challenge will match two Calgarians with leaders in the field. Experts in fashion, cosmetics, hair, dental, skin, esthetics, fitness, life-skills, wellness and even fine dining will lend their expertise to the challenge. The two lucky winners will gain new information and outlooks on life by the middle of April.
Who is involved?
The consultants consist of small businesses within the Calgary beauty and wellness sector. The businesses that are involved in the extreme makeover challenge are: The Executive Edge, Chi Chi Girl, Zsa Zsa Hats, Sisley, Milieu Clothing, Hanky Pankx, French Twist, Innocence Cosmetics, Alanti Hair Group, Madison Avenue Salon, Beas Braiding, Dentrix Dental, Extreme Beach, Phamtastic Nails & Spa, Body Mind, Balance Fitness, and many more.
The Sponsors are Fuel Radio, Impact Magazine, Krave Magazine, Vex Magazine, and Blvd Lounge.
About the company:
Blossom Communications is Calgary's premier beauty and wellness advertising and promotions agency.
Blossom was founded to meet the growing needs of beauty, fitness, wellness and lifestyle providers in delivering their message to Calgary's growing population - in particular, upwardly mobile professionals who want to look good and feel good in their quest for personal and professional success.
Blossom's primary goal is to showcase their clients' services and products in all existing media, as well as facilitating extraordinary events such as extreme makeover promotions.
They are a full-service creative marketing agency specializing in the development of branding, marketing and new media strategies for their clients. They offer a broad and innovative range of services with experience in graphic design, website design, print media and software development to enhance their member-client's profiles in the ever-expanding Calgary marketplace.
###