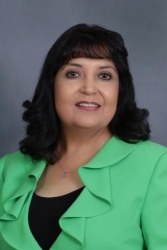 Fort Stockton, TX, April 18, 2017 --(
PR.com
)-- Lou Ann Tovar of Fort Stockton, Texas has been recognized as a Professional of the Year for 2017 by Strathmore's Who's Who Worldwide for her outstanding contributions and achievements in the area of finance.
About Lou Ann Tovar
Ms. Tovar has 40 years experience in the financial field. She is the Senior Vice President at West Texas State Bank in Fort Stockton, Texas. She is a lender and oversees the operations of the branch.
Ms. Tovar is Board Trustee-Vice President of Pecos County Memorial Hospital, a Board Member of Fort Stockton Crime Stoppers, Board Member of Scholars for Dollars and an Ambassador of the Fort Stockton Chamber of Commerce. She has served as President of the Fort Stockton Chamber of Commerce twice over the last 10 years, and served on numerous other boards throughout her career.
Right after high school graduation, Ms. Tovar went to work for a bank. She started in bookkeeping and slowly worked her way up. She attended Midland College, and speaks English and Spanish. She loves working in banking and helping customers on a daily basis.
In her spare time she enjoys volunteering, crafts and spending time with her husband and their pets.
Favorite quote – "Believe and all things are possible."
For further information, contact www.wtstatebk.com.
About Strathmore's Who's Who Worldwide
Strathmore's Who's Who Worldwide is an international advertising, networking and publishing company based in Farmingdale, New York. They are proud to be able to satisfy their clients and continue to have repeat clientele due to their longevity and pride in their products and services. The Owners strive to connect business professionals to enhance their contact base and networking capabilities so they can get the acknowledgment and publicity within their industries and beyond. The Strathmore family has been providing these valuable services for over two decades. They target executives and professionals in all industries to be featured in their publication and on-line directory. Industries include business, law, education, healthcare and medicine, fine arts, IT, government, science, real estate, entertainment and many more accomplished fields. Professional profiles are listed in an annual hardcover journal and in a detailed, searchable database on the website www.strww.com.