Southern California NGO Advising United Nations Group on Fuel Transport and Security
Fuel Relief Fund Heads to Ghana to Lend Expertise at One of the World's Six Humanitarian Response Depots.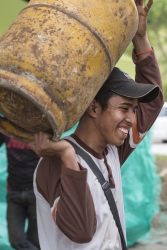 Riverside, CA, April 14, 2017 --(
PR.com
)-- When a major disaster strikes, one of the most critical resources to rescue and recovery is fuel. But fuel supply and access are often cut off during such life-threatening emergencies.
Orange County-based Fuel Relief Fund (FRF) is the only NGO in the world that exists for the purposes of procuring and delivering fuel to vulnerable communities where it's needed most.
And now, at the request of the United Nation's World Food Programme (WFP), the Founder and CEO of Fuel Relief Fund, Ted Honcharik, will travel to Ghana on April 14. The African country is home to one of the United Nations' six strategically placed Humanitarian Response Depots designed to procure, store, and transport emergency supplies.
It's the second time Honcharik and FRF have been asked by the WFP to provide expertise on what it takes to transport, store and secure fuel around the globe - having done similar work on a "lessons learned" mission on the Yemen civil war.
Ted Honcharik explained, "We gave technical assistance on fuel inventory control, security, management and fuel automation. They saw that our team and board have the experience and skills, so they reached out a second time. In Ghana, we hope to make their jobs a bit easier by improving internal fuel supply and control."
If the Ghana project is successful, FRF improved fuel arrangements during times of disaster elsewhere in the world, can result, creating more efficiency in humanitarian response systems and services to people in need.
Why is providing fuel life-critical in a disaster? Because it's needed to power:
• Search and rescue to locate victims and transport them to life-saving care
• Transport of food, medicine and clean water
• Providing light wherever and whenever it is needed
• Pumping clean water
• Providing emergency power supply in relief camps
• Providing power to emergency hospitals where critical operations can be performed
• Disaster assessment teams determining the extent of damage and loss of life
• Strengthening preparedness, risk reduction and recovery efforts
To arrange an interview with FRF Founder and CEO Ted Honcharik, contact Executive Director Melisa Lindros at 909-322-1481 or
mlindros@FuelReliefFund.org
.
About Fuel Relief Fund:
Fuel Relief Fund
- a registered charitable organization based in Riverside, California and the Netherlands - is the only non-governmental organization (NGO) in the world dedicated to solving emergency fuel needs in times of disaster by getting fuel to the people who need it most. Established in 2005, FRF exists to fill the crucial gap in the first phases of a disaster - powering first responders and aid agencies, saving lives and alleviating human suffering.
www.facebook.com/FuelReliefFund.org/
twitter.com/FuelReliefFund
Contact
Fuel Relief Fund
Melisa Lindros
909-322-1481
fuelrelieffund.org

Contact