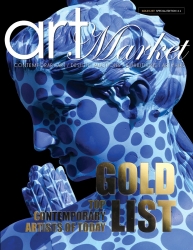 New York, NY, April 18, 2017 --(
PR.com
)-- A List of the Top Contemporary Artists of Today
Artists from every contemporary field are featured on the list, providing expansive and in-depth coverage of truly talented individuals - The Judges team believe each entrant featured on this list is a name worth remembering.
Every artist included on the Gold List has earned their spot there, be it through a growing reputation among the art community or an established name that continues to inspire and excite.
Nothing gives them more pleasure than recognizing these inspirational talents and providing a platform for the exposure they so greatly deserve.
The Gold List not only showcases an incredible repertoire of work for each entrant, but also an insight into to person behind the art, with an in-depth biography and feature article also included for every artist.
- The First Special Edition of Art Market Magazine, Available for Direct Distribution
Art Market Magazine is an art publication of high renowned, enjoying a reputation that continues to grow with each passing issue.
In just three short years, the magazine has grown from a passion project covering the emerging Israeli art scene to truly international publication that takes you on a journey through the global art world.
With a monthly readership of 16,000 and growing, Art Market Magazine's success is not by chance, but a result of passionate art coverage for people that love art.
Each issue is packed with content, with reviews, feature articles, artist profiles and interviews the art and culture coverage featured here is as varied as it is extensive.
Now, Art Market is ecstatic to produce the first-ever special edition in the shape of The Gold List, a testament to how far the publication has come in such a short time.
Better still, direct distribution of this special edition is fully available for art galleries, curators, collectors, investors and any other industry leaders of the art world.
This is a highly-anticipated edition will provide exposure to over 50,000 readers worldwide, including European and North American markets, truly helping to solidify Art Market Magazine's status as a leading global art publication.
- The Gold List issue of Art Market Magazine is now available in both print and digital copy, and can be found at the following retailers:
- Steimatzky (Tel Aviv, Israel), Magzter, Pocketmags, Amazon (Kindle), iOS & Google Play App. In the upcoming few weeks will be also available in Barnes & Noble's (USA).
Additionally, each artist will also enjoy an online digital exhibition on Art Market Magazine's official website.
About Art Market Magazine
Founded in 2014, Art Market magazine offers comprehensive coverage of the world of fine art and beyond.
Known for its quality and passion for all things art, Art Market Magazine offers each reader a deeper focus on auctions, art fairs and exhibitions from all over the world, along with articles and exclusive interviews with emerging and most known artists in the world today.
In previous issues, Art Market Magazine has featured exclusive interviews with some of the most important and influential figures in the art world today, including: Jeff Koons, Liz Sterling- Head of contemporary art department at Sotheby's, Jacob Pabst- Artnet CEO, Yayoi Kusama, Cindy Sherman, Andrew Salgado, Tony Terto and many more.
List of Chosen Photographers for the Gold List Special Edition Issue One
Joshua Miels . Feromontana . Debi Oulu . Marco Battaglini . Mally Elbaz Almandine . Maritha Van Amerom . Michal Shelly . Nellien Brewer . Ora Nissim . Dana Zaltzman . Samantha French . Emily Harris . Dr. Lilac Abramsky-arazi . Guy Aloni . Lika Ramati . Boris Leifer . Peggy Lee . Agita Keiri . Joyce Pommer . Sergio Camporeale . Brian Sostrom . Doron Gal- Adoni . Raphael Perez . Tanya Isaacson . Assaf Basson . Uriel Cazes . Niva Dotan . Lela Migirov . Orna Naor . Catriona Cameron . Emerich Meerson . Ayelet Boker . Zvika Horesh . Ynin Shillo . Paul Michael Montelongo . Whitney Babin . Daphne Horev . Elhanan Simhayev