Bulldog Steel Fabrication Nominated for MAW - 2017 Manufacturer of the Year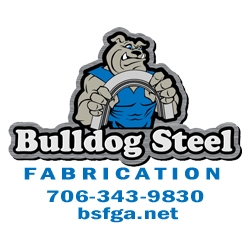 Madison, GA, April 20, 2017 --(
PR.com
)-- Bulldog Steel Fabrication (BSF), a premier supplier of steel fabricated parts and components in Georgia, has been nominated for the 2017 Manufacturer of the year award in the Morgan County Georgia – Small Business Category by Georgia Piedmont Technical College (GPTC).
In the region that GPTC represents, only nine nominees were chosen in DeKalb, Rockdale, Newton and Morgan counties.
"Were very excited about being nominated for this award recognizing our contributions to both the business and local community," said Lorenze Tremonti, Safety and Quality Manager at Bulldog Steel Fabrication.
Winners will be announced at a special banquet for nominees and select invitees on April 27th at the Georgia International Convention Center. The event will feature a key note address from Georgia Governor Nathan Deal.
The 2017 Manufacturing Appreciation Week (MAW) Art Design contest award winners will also be announced. Elementary, middle, and high school students from across Georgia have submitted their artwork reflecting the manufacturing industry in the state of Georgia. The goal of the design contest is to inspire students to consider the rich diversity of careers available in advanced manufacturing.
"The team at Bulldog Steel is proud to be nominated in the MAW 2017 Small Business category. It's a true accomplishment and we're appreciative for the opportunity to share our business and community involvement with our peers," commented Carlin Thomas, President and General Manager of Bulldog Steel Fabrication.
Manufacturing Appreciation Week was developed by the Technical College System of Georgia and the Georgia Department of Economic Development. The official MAW website www.georgiamaw.org provides more information.
Bulldog Steel Fabrication is an industry leader in the South East for processing structural, flat rolled and coiled steel into customer specific component parts.
The company's website www.bsfga.net provides more information.
Contact
Bulldog Steel Fabrication, LLC
Carlin Thomas
706-343-9830
www.bsfga.net

Contact