Doctor Releases Blood Pressure Awareness Film on YouTube to Help Save Lives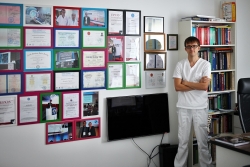 Volgograd, Russia, April 21, 2017 --(
PR.com
)-- Alexander Tkachev, a licensed, practicing medical doctor with extensive field knowledge of common physical abnormalities including high blood pressure and blood pressure monitoring, this week released a public medical awareness film on the dangers of high blood pressure and how regular doctoral checkups can help prevent blood pressure-related deaths.
Inspired to help educate more families on the dangers of high blood pressure after his mother passed away in September 2016 from a hemorrhagic stroke as a result of her high blood pressure, Tkachev's film is purely nonprofit from a zero dollar budget campaign.
"I am hopeful this campaign will help get rid of the illnesses that rob us of the chance to spend more time with the people we love," said Tkachev. "Uncontrolled blood pressure, just like the air pressure in the bursting of a balloon, can greatly harm and kill individuals. But, like many diseases, it can be controlled. Monitoring blood pressure is an option, and visiting doctors when it spikes is a preemptive measure that'll help people live longer."
The blood pressure film was initially published on YouTube April 13, 2017. It has been distributed among Tkachev's close friends and their associates through social media platforms. His goal is to have it go viral so as many people as possible are educated on the unchecked side effects of high blood pressure.
"It's impossible to estimate the future amount of saved lives in the world," said Tkachev. "But, even one from this film would be considered a great achievement. I am asking everyone to share this film with someone they love, so high blood pressure awareness is passed on to millions."
For more information, or to watch the YouTube video today, visit:
www.youtube.com/watch
Contact
MD Alexander Tkachev
Alexander Tkachev
79616668797
www.youtube.com/watch?v=QO704cvxCI8

Contact