Professor of Environmental and Multicultural Literatures Pens Brilliant Mystery Novel
Moon Willow Press publishes Cave Walker, an engrossing, well-paced read that's hard to put down, a story that evolves, pulling the reader along, engaging them in the journey.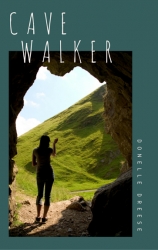 Cincinnati, OH, April 22, 2017 --(
PR.com
)-- How far would you go to save the life of someone you love? Would you face your deepest fears? Would you walk into the dark belly of the bedrock Earth and rest your head on its bouldering fangs? Twenty-four year old Gillian Berry enters the haunting, narrow corridors of the Cave of Desperate Cries to save Neil Foster's life, but discovers she must save her own.
Donelle Dreese's Cave Walker tells the story of Gillian Berry, a talented breakfast chef who works at her mother's charming B&B, the Pointed Firs Inn. After Gillian foresees the death of her love interest, Neil Foster, she nervously journeys into the Cave of Desperate Cries in the deep woods of Maine, hoping to save his life. This cave is known to be a holy place where people go for miracles, but many have entered and not returned. The caves take Gillian on an adventure as she unravels the truth behind the "ancestor syndrome" in her family and tries to heal the trauma that has been passed down through five generations of women. When Gillian returns from the caves, she reunites with her estranged father, who is now a permaculture designer and lives in an eco-village. She learns the truth about Neil Foster and her premonition of his death. Her encounters while traveling the caves allow her to finally realize who she really is, a cave walker and a healer.
Donelle Dreese is a Professor of English at Northern Kentucky University where she teaches Environmental and Multicultural Literatures, American Women Poets and writing courses. She is the author of three collections of poetry, Sophrosyne (Aldrich Press), A Wild Turn (Finishing Line) and Looking for A Sunday Afternoon (Pudding House). Donelle is also the author of the Young Adult novella Dragonflies in the Cowburbs (Anaphora Literary), the eco-fiction novel Deep River Burning (WiDo Publishing), and America's Natural Places: East and Northeast (ABC-CLIO). Her poetry and fiction have appeared in a wide variety of literary journals including Blue Lyra Review, Roanoke Review, Journal of Microliterature, Louisville Review, and ISLE: Interdisciplinary Studies in Literature and Environment.
Moon Willow Press is an independent, niche publisher committed to helping sustain forests while celebrating the written word. MWP supplements book publishing with a project exploring climate change and nature themes found in literature at Eco-fiction.com. Every year, MWP donates a percentage of book profits to tree-planting efforts.
Contact
Moon Willow Press
Mary Woodbury
778-855-4925
moonwillowpress.com

Contact