Newest Crowdfunding Website with a Unique Design to Raise the Most Money for It's Users
Crowbump.com launches full scale today as the newest online fundraising platform with a unique vision to not just collect donations but to raise the most money possible for each user. With this specific advantage over competitors, Crowdbump is shifting the effectiveness and impact of online giving.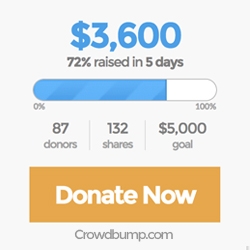 San Diego, CA, April 25, 2017 --(
PR.com
)-- Crowdbump.com, a personal online fundraising platform with a unique advantage for its users, officially launches at full scale today.
The Crowdbump platform stands out with it's focused approach to raise the most money possible for every campaign. "There is a clear science to what makes a more profitable online fundraiser and Crowdbump was designed around this idea from the start," says Co-founder Ryan Dennis.
The platform code was designed to intentionally focus on maximizing donations for each individual story. Crowdbump also provides data guided pro tips through free one-on-one crowdfund coaching to optimize social sharing and donations to reach any goal.
With the exception of inappropriate and illegal needs, Crowdbump can raise money for anything. "We create the blank canvas to share incredible stories and then remove the barriers to connect those stories with a caring community willing to help in the time of need." - Jessica Hill, Personal Crowdbump Coach
Online crowdfunding is becoming increasingly popular for raising funds and Crowdbump brings fresh new perspective to the industry: Don't just collect donations - raise the most money possible.
Access to the site and the ability to raise money for what matters to you is available at Crowdbump.com. There are no costs associated with signing up and creating your donation page. A small fee is collected when the user receives a donation.
Contact
Crowdbump.com
Jessica Hill
(619) 786-7327
https://www.crowdbump.com

Contact