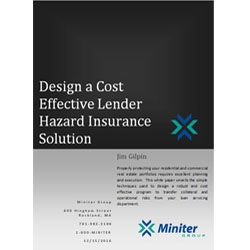 Rockland, MA, April 25, 2017 --(
PR.com
)-- Miniter Group today announced the launch of their new home page, which is designed to disseminate lender insurance information. For many years, Miniter Group has taken a proactive approach to providing guidance and information within the force-placed insurance industry. The company is continuing this philosophy with five new white papers regarding Hazard Insurance, Vehicle Portfolio Insurance, Flood Insurance, Insurance Tracking, and Vendor Management, respectively.
According to Jim Gilpin, COO of Miniter Group:
"We are very excited to launch our new website homepage. It can be a challenge for lenders to find reliable and digestible compliance and industry information, given the complicated and ever changing landscape. This new layout will invite lenders to read our new white papers, which we feel provide valuable compliance and risk management insight to the banking industry."
You can visit the new home page at
www.miniter.com
.
Miniter Group is a leading provider of collateral risk transfer solutions to the lending industry, providing services to over 550 lenders in 45 states. Miniter's products include Lender Placed Hazard, Lender Placed Flood, REO Hazard, REO Liability, Blanket Mortgage Hazard, Mortgage Impairment Insurance, Outsource Tracking, Vendor Single Interest Insurance, Collateral Protection Insurance and GAP Insurance. Miniter's in-house software development team revolutionized insurance tracking for small to mid sized lenders by creating our Borrower-Centric Insurance Tracking Solution.
We invite you to call us at 1-800-MINITER or visit us on the web at www.miniter.com.