The Future of Drinking Water Teams Up with TED 2017
For the third consecutive year, Vivreau Advanced Water Systems partners with the TED Conference in Vancouver, BC to provide sustainable hydration to some of the world's leading minds.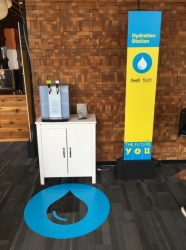 Vancouver, Canada, April 25, 2017 --(
PR.com
)-- While our world's population quickly approaches 7.5 billion people, it's becoming ever more evident that every action we undertake now will have a clear effect in the future. Pursuing a responsible, community-minded path is more important than ever. As a long-time TED supporter and water industry leader that has originated a new category of premium water service as an antidote to wasteful single-serve bottled products, Vivreau is proud to bring its message of sustainable water consumption to the world stage at this year's TED 2017 conference.
"The TED conference exemplifies our company values with its messages of change, leadership, innovation, and sustainability," says Drew Hamilton, Managing Director of Vivreau North America. "We are very proud to be a part of this world-class conference each year, and look forward to connecting with the engaging speakers and attendees as we explore how to improve our future selves, together."
Vivreau's popular, environmentally responsible bottling and dispense systems will serve as water stations throughout the conference, providing pure chilled sparkling and still water to all in attendance. Utilizing advanced micro-filtration technology, Vivreau's water systems connect to local water lines and are extremely high performance and energy efficient; perfect for highly demanding corporate and hospitality environments. Used in conjunction with its designer reusable glass bottles, Vivreau systems help clients reduce both their environmental and carbon footprints by eliminating the production, transportation, and disposal of traditional prepackaged bottled water.
The annual TED Conference immerses attendees in the newest that technology, entertainment, and design have to offer. This year's theme of The Future You explores the most pressing questions of our time and aims to imagine what our shared future might look like. With thought leaders such as Elon Musk, Gayle King, Jorge Drexler, Cynthia Erivo, Serena Williams, and the musical group Ok Go bringing their thoughts and perspectives to the world stage, the event is sure to start some important conversations about the future, with the vital resource of water emerging as one of many urgent topics.
Vivreau will also be supplying custom TED Vivreau Designer reusable glass bottles that will be used in the VIP-Green rooms, for the opening and closing receptions and notable TED sanctioned events during the week. At the end of the conference, the striking bottles will be given as gifts to speakers and attendees.
For more information on Vivreau, please visit www.vivreau.com
Contact
Vivreau
Sarah Coull
877.999.1044
http://vivreau.com/

Contact