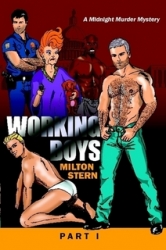 Baltimore, MD, April 26, 2017 --(
PR.com
)-- Published weekly over a two-year period, all the chapters are now together in two print editions. Follow the lives of notorious, retired madam, Madeline Bennett, and her two Gay sons, Bradley, a former escort, and Marty, a police detective, as they navigate mid-life, while working to solve thirty-year-old, cold murder cases that may be related to a spate of recent beating deaths of working boys. Meet a colorful cast of characters who come into and out of their lives as well as many nefarious individuals, whose only goal is to destroy them. "Working Boys – A Midnight Murder Mystery, Part I" is just the beginning. The adventure continues in Working Boys PartT II.
In Working Boys – A Midnight Murder Mystery, Part II, continue following the lives Madeline Bennett, Bradley, and Marty as they work together to catch the Black Marble Murderer, who targets middle-aged, muscular gay men. Old loves return, and new loves blossom. The cast of colorful characters are back, including the members of a secret organization, who have been hiding in plain sight. Working Boys – A Midnight Murder Mystery, Part II will leave you asking for more.
Milton Stern is the author of nine books, including Harriet Lane, America's First Lady; on Tuesday's, They Played Mah Jongg, and The Gay Jew in the Trailer Park. Milton also wrote the introduction to Mah Jongg, The Art of the Game. Milton writes a monthly column for a national antique automobile magazine. He resides in Jessup, Maryland.
Milton Stern
240-308-1445
miltonericstern@gmail.com
www.miltonstern.com